Walla Walla solider's memorial attended by hundreds
Posted:
Updated: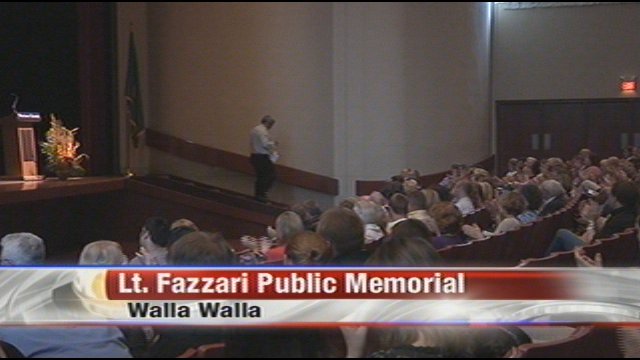 WALLA WALLA, Wash.-- A public memorial honoring Lt. Mathew Fazzari, the first soldier to die in the Afghan War from Walla Walla, was held Saturday at Cordiner Hall on the Whitman College campus.
The auditorium was filled with people paying tribute their town's patriot. Lt. Mathew Fazzari was twenty-five years old when his helicopter was shot down on June 6th in Afghanistan. Hundreds came to show their gratitude for his military service and remember the man who died for his country.
His sister, Danielle Fazzari, says the memorial was a reflection of her beloved brother.
"To see this room full of people and to hear all those beautiful speeches, it really attests to Mathew's character and it attests to the kind of man he was. It's just heart warming," says Fazzari.
There were seven speakers telling stories about their friend, fellow soldier and family member. They spoke of a man who they said was kind, mature, loving and put his maximum effort into all he did.
"I don't think a minute will go by that I don't think of Mathew," says Fazzari.
The memorial concluded with a tribute to all the men and women currently serving in the military from Walla Walla as a way to show other local military families that they're not alone.
"I hope they don't forget Mathew's sacrifice because I know we all won't," says Fazzari.
Lt. Fazzari is survived by his wife and two sons and a community that remembers the kind of man who put it all on the line for them.