Tri-City drops another north of the border, 7-4 to Vancouver
Posted:
Updated: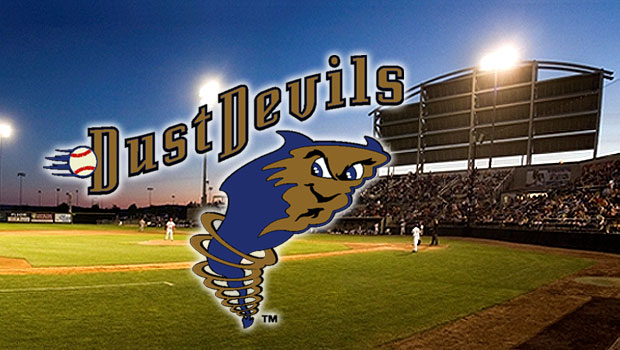 By Vancouver Canadians
(Scotiabank Field at Nat Bailey Stadium - Vancouver, BC) - After a 47-minute rain delay, the Vancouver Canadians managed to find their offensive touch topping the Tri-City Dust Devils 7-4 on a soggy Saturday night at Scotiabank Field.
The Canadians offense was led by second-year slugger 1B Balbino Fuenmayor who went 3-for-3 with a home run (3) and four RBI to bump his average on the season to .444 (16-for-36). LF Ian Parmley drew three walks on Saturday night scoring all three times he reached base in the victory.
On the mound, LHP Colton Taylor struck out six (6) over his 3 1/3 innings of work giving up two runs on a pair of hits. LHP Bobby Brosnahan pitched 2 2/3 innings for the C's limiting the potent Tri-City offense to just two hits, but three walks helped the Dust Devils plate a pair of runs off of the former University of Michigan Wolverine in the bottom of the 6th inning. RHP Phillip Brua picked up the win going 1 1/3 innings of one hit baseball before RHP Drew Permison came in for his second save of the season.
With the victory, Vancouver improves to 7-2 (.777) on the season and retains top spot in the Northwest League's West Division. It is also the Canadians third straight victory and secure their second straight series victory.
The Canadians and Tri-City wrap up this current five-game series out at Scotiabank Field at Nat Bailey Stadium on Sunday, June 24th at 1:05pm. Vancouver send RHP Javier Avendano to the mound in the finale.