Dust Devils drop another close one, 3-2 to Vancouver
Posted:
Updated: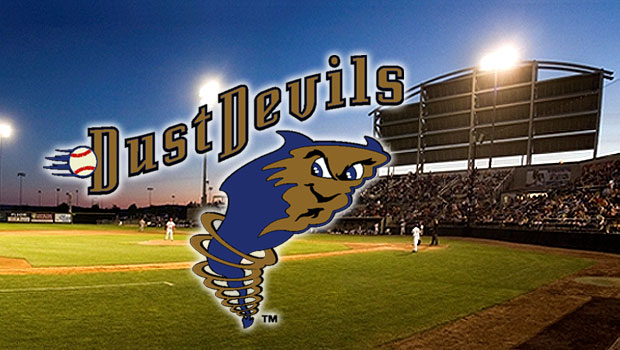 By Vancouver Canadians
(Scotiabank Field at Nat Bailey Stadium - Vancouver, BC) - After lying dormant for eight innings, the Canadians offense caught lightning in a bottle in the bottom of the 9th inning to force the Tri-City Dust Devils to extra innings where C's RF Nick Baligod would score on a wild pitch helping Vancouver to a 3-2 win in 10 innings.
In the final game of a five-game home stand, the Canadians came out of the gates slow as Tri-City starter RHP T.J. Oakes went four scoreless innings while limiting Vancouver to just a lone hit. Oakes was followed up by RHP Shane Broyles who went three innings without giving up a hit to Vancouver.
The Canadians pitching was solid as well as RHP Javier Avendano went four scoreless innings while striking out five followed by RHP Nick Purdy who had a scoreless 1-2-3 inning in the top of the 5th.
After falling behind by a pair of runs, the Canadians rallied in the bottom of the 9th inning with a pair of runs that included a bases loaded ground out, off the bat of SS Jorge Flores that scored PR Dalton Pompey to even the game at 2-2.
In the bottom of the 10th inning, Tri-City reliever LHP Josh Hungerman would give up a single to Canadians RF Nick Baligod who would then advance to second base on a wild pitch, to third base on a wild pitch and then scored the game-winning run on a third wild pitch. Dust Devils C Michael Ramirez went to the backstop to retrieve the ball, but as Hungerman applied the tag, Baligod's hand had already swiped across the plate giving Vancouver their fourth consecutive victory to improve to 8-2 (.800) and give them sole possession of first in the NWL West Division.
The Canadians now embark on a short three-game series in Everett, WA with first pitch set for 7:00pm out at Memorial Stadium. Vancouer sends RHP Eric Brown to the mound in search of the C's fifth consecutive victory.
Vancouver Canadians Baseball returns to Scotiabank Field at Nat Bailey Stadium on Thursday, June 28th at 7:05pm to begin a six-game home stand as the C's welcome West Division rivals Eugene (June 28-30) followed by Salem-Keizer (July 1-3).
Tickets to Vancouver Canadians Baseball can be purchased by calling 604.872.5232, online at canadiansbaseball.com or at the Nat Bailey Stadium Box Office at 4601 Ontario Street in Vancouver, B.C.