Argyropoulos Homer Rallies Tri-City to Victory over Yakima, 3-1
Posted:
Updated: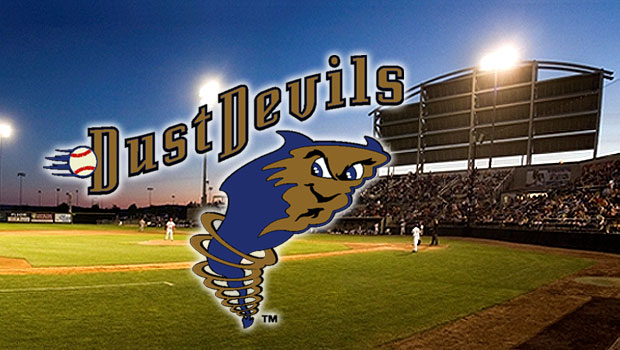 By Tri-City Dust Devils
An afternoon torrential downpour throughout the Tri-Cities couldn't put a damper on the Tri-City Dust Devils' bats, which have hammered 32 hits over their last three games, as the Dust Devils defeated the Yakima Bears 3-1 Tuesday night. The biggest hit of the game came off of the bat of third baseman Matt Argyropoulos, who hit a two-run home run to deep left-centerfield to give the Dust Devils a 3-1 lead in the eighth inning, a lead the Dust Devils would not surrender.
Tri-City (4-8) starting pitcher Josh Slaats once again pitched well, lowering his earned run average to 1.93. In the start he worked six innings, allowing one run on four hits while striking out four and walking one. The Dust Devils' bullpen was stellar in relief of Slaats. Lefty Brook Hart (2-0) earned his second win of the season, throwing two shutout innings in which he allowed just one hit. Right-hander Will Rankin (Sv, 3) came on in the ninth inning and secured the Dust Devils' fourth win of the season.
Yakima (6-6) starting pitcher Bobby O'Neill, making his first start of the season, pitched three shutout innings before being pulled. In those innings O'Neill allowed three hits while striking out two and walking one. Reliever Frank Santana (0-2) was tagged with his second loss of the year after allowing the Argyropoulos homer in the eighth.
At the plate the Dust Devils once again continued their hitting ways, tallying nine hits on the night. Outfielder Dillon Thomas, first baseman Miguel De Leon, and Argyropoulos all had two hits on the night as six of the nine Tri-City starters tagged hits against the Bears' pitching staff.
The series finale between the Dust Devils and Bears is Wednesday night, which is also Weenie Wednesday with all hot dogs on sale for just one dollar. Tri-City will try to win their first series of the year after evening the series at a win apiece Tuesday night. Starting for the Dust Devils will be right-hander Ben Hughes while lefty Alexander Carreras gets the call for the Bears with first pitch at 7:15 p.m.