Dust Devils Drop Series Finale Against Bears 6-5
Posted:
Updated: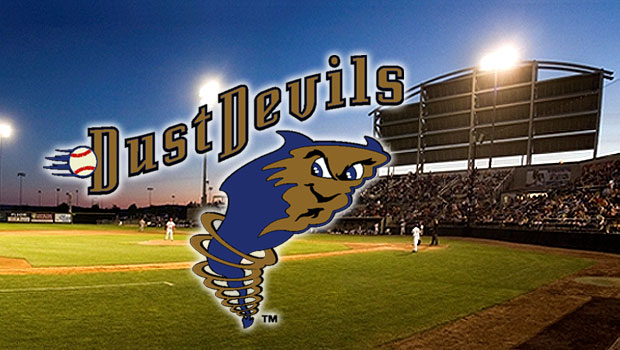 By Tri-City Dust Devils
The Tri-City Dust Devils fell to the Yakima Bears 6-5 in the rubber-match of the first three game series of the season between the division rivals in front of 3,140 at Gesa Stadium Wednesday night. The loss puts the Dust Devils three games behind the division-leading Bears as the teams ready for a three game series in Yakima which begins Thursday night.
Tri-City (4-9) starting pitcher Ben Hughes (0-2) took his second loss of the season in his third start, allowing three runs in five innings on the mound. All three runs came in the fourth after Hughes started the outing with three shutout innings. He finished the night with seven strikeouts and no walks. Relievers Josh Hungerman and Taylor Reid went the rest of the way for Tri-City, combining to allow three runs, one earned, on four hits over the final four innings.
Yakima (7-6) starting pitcher Alex Carreras (3-0) worked out of multiple jams to earn his Northwest League leading third win of the season. Carreras allowed two runs in five innings on five hits while striking out five and walking two. After two perfect innings from reliever Victor Acosta, righty Blake Forslund was tagged for three runs on one hit and three walks in just two-thirds of an inning. But righty R.J. Hively (Sv, 1) came on in the ninth and earned his first save of the season.
Leading the way at the plate for the Dust Devils were designated hitter Francisco Sosa, outfielder Charlie Blackmon, and third baseman Matt Argyropoulos, getting two hits apiece. Blackmon and Sosa also tallied a run batted in each. The Dust Devils rallied in the eighth inning, trailing 6-2, and scored three runs with two outs, but were unable to recreate the rally in the ninth as they failed to win their first series of the season.
The Dust Devils will head to Yakima to take on the Bears in a three game series beginning Thursday night before returning to the Tri-Cities on Sunday July 1st, when they begin a three game set with the Boise Hawks.