Helicopters playing big role in fighting fires
Posted:
Updated: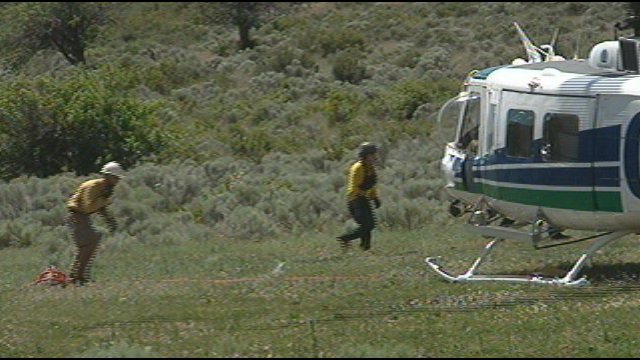 ELLENSBURG, Wash.-- Dozens of Washington State DNR firefighters are helping fight the wildfires in Colorado. Back here at home, crews are training out near Ellensburg, working with the tools that get them to fires the quickest, hoping to prevent situations like that.
They're a vital tool in getting crews to where they need to be, right on the fire line.
Whether it's dropping firefighters, supplies, or hundreds of gallons of water, these helicopters play a big role in the effort to contain wildfires.
"Time it takes us to get to the fire is a lot faster than it takes engine folks and other hand crews, so our response time is a lot quicker. We're able to get to a fire fast, size it up, and take action quickly," said Jacod Hardt, a helicopter manager with DNR.
Helitack crews trained at the Coleman Canyon Helibase. Pilots getting a chance to do mock water drops and cargo loads, the folks on the ground getting back into the firefighting mode.
"They'll do op's with the fire. So they can see where the fire's the most active. And then they'll let us out, we'll either start constructing hand line or building some sort of contingency line, whether it's burning out or whatever. That way we can kind of contain the fire," said Creston Grant, a helicopter crew member.
Last year, DNR crews tackled over 500 wildfires throughout the state. And it's using equipment like this that they're able to get out there fast and keep them from spreading.
"Our goal is to keep most of our fires below 10 acres. And in doing that it's more cost effective for the state of Washington. Also, safety for the public and ourselves. So keeping it small is kind of the name of the game," said Hardt.
These helicopters can carry a crew of six firefighters and the pilot to remote areas, fast. In fact, crews based out of Ellensburg say it only takes them about five minutes to get up in the air when they get the call. A crucial part of keeping fires under control.
"We want to keep the fire as small and as contained as possible. That way it doesn't spread. We're trying to kind of prepare ourselves for not letting something like Colorado happen," said Grant.