Gregoire and McKenna don't see eye to eye on Healthcare Reform ruling
Posted:
Updated: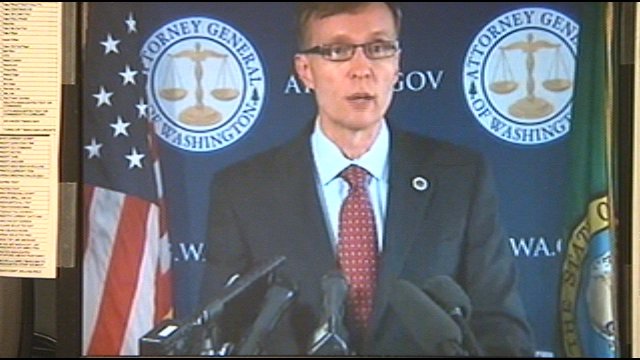 Olympia, Wash. -- Thursday's Supreme Court ruling on health care reform has definitely left a split between many people and parties. In Washington, both Governor Chris Gregoire and State Attorney Genera Rob McKenna spoke out about the ruling's effect.
"This is a great day for the people for the state of Washington, said Gregoire, "I applaud today's Supreme Court decision. Since the Affordable Care Act was signed by the President, we have worked tirelessly to implement it in our state, with my firm belief that it was constitutional and would ultimately withstand legal challenge. I'm extremely pleased that the majority of the Court agreed on the merits of the law highlighted in the briefs that I and others submitted on its behalf.
"The real winners today, however, are the millions of Americans and Washingtonians who have and will now continue to benefit from this Act. Among them are more than 50,000 young adults in our state who have gained insurance coverage through their parents' plan, our more than 60,000 seniors who've annually received assistance to purchase needed prescription drugs, and the millions here that are no longer subject to unfair practices by insurance companies. And with this cloud of legal uncertainty removed, I look forward to the day not long from now when more than 800,000 people in our state will be able to use our Health Benefit Exchange to get the health insurance that they need but currently must go without.
McKenna held an online conference, and noted his disappointment with the ruling, but a small victory at the same time. This was posted on his website.:
"The U.S. Supreme Court ended this long fight with its ruling today that indeed the individual mandate was not allowed under the Commerce Clause. This, along with the ruling that the federal government could not force states to expand their Medicaid programs, was a victory for federalism. However, since the Court also ruled that the failure to comply with the mandate would result in a tax - not a "penalty" as written in the bill - it upheld the law since Congress has taxing authority under the Constitution."
The two disagree about what this means for the state of Washington and it's citizens. "Insurance companies no longer have the power to cancel your policy, to deny you coverage or to charge women more than men," Gregoire.
McKenna questioned the power lawmakers held over its citizens. "If congress can put a tax in place that taxes you if you don't have insurance, can they tax you if you're overweight?," he asked.
Greogoire said the state is ready for change, and has been implementing the Affordable Care Act into place for several years. She says it will ultimately cut costs for us. "Our state government healthcare costs have doubled over the last decade, $5 billion a year. Healthcare as a state share general fund has grown by 22% since 2000," says Gregoire.
But McKenna disagreed about the effects. ""We know its not taxing the poor because they're going to be covered by Medicaid, its also not a tax on senior citizens because they're covered by Medicare, it is a tax on people who are not poor enough to qualify for Medicaid, but who don't receive enough coverage from their employer," says McKenna.