George Washington Way construction hurting business owners
Posted:
Updated: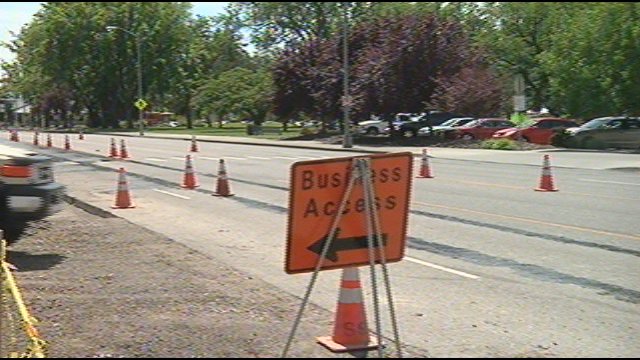 RICHLAND, Wash. -- The City of Richland continues making major improvements to a portion of George Washington Way; but the work is disrupting several businesses on the East side of the busy roadway.
"It's very tough, I'm cutting hours on people as much as I can. I've asked relief from my corporation," says Dan Korte, the owner of Quizno's who says he's lost 40% of his business as the work began.
A & B Asphalt is removing and replacing pavement on George Washington Way between Jadwin Avenue and Guyer Street, just south of the Uptown Shopping Center. The project also will include curb, gutter and sidewalk replacements and new streets caping. The project began at the north end of the section, at Guyer Street.
"It's hard to get in here, and they don't want to come in," says Jimmy Huang the manager of City Buffet who also lost about 40% of his business customers.
"Of course they're impacted, because whenever there's orange cones, people drive differently," says Trisha Herron with the City of Richland. But Herron says they're keeping the lines of communication open on the $1.25 million project that's expected to stretch through September.
"We have to work on roads and we have to do an underground infrastructure project, but we try and minimize the impact as much as possible," says Herron.
Herron says they keep all the business owners in the loop of what's happening, make arrangements for deliveries and when they start to seal off driveways to do the concrete work, they'll do it in increments.
"The ones that have only one entrance in and out, we do those half at a time, and the city is going above and beyond and making sure we have some quick setting concrete," says Herron.
But Korte says it's not enough, and waiting through July when the work switches to the other side of the street will be very costly. "I asked them to work at night, but they can't work during the night time because they have a noise code. I asked them if they could work earlier in the morning from my store,"says Korte.
Most of the afternoon, the project restricts traffic to one lane in each direction on GW-Way; The project also will include complete, one-time, weekend closures of GWWay's intersections at Swift and Lee; selected weekends will be determined later, but will not be during major events in Howard Amon Park. Herron anticipates the Swift closure to happen some time in July.
Richland Police want to remind drivers that they cannot turn left at intersections, like Swift and Lee Boulevard. Police are handing tickets out. But it is ok to make left hand turns at businesses.
The city encourages people to visit their website for the most up to date information. Click here to see details.