Dust Devils Comeback Earns First Series Win, 7-5 over Hawks
Posted:
Updated: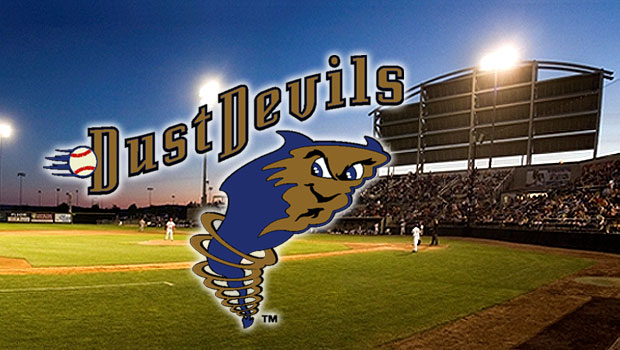 By Tri-City Dust Devils
The Tri-City Dust Devils needed just four hits Monday night to come back from a five-run deficit and defeat the Boise Hawks 7-5. Trailing 5-0 after two innings, the Dust Devils' offense used two big hits from outfielder Francisco Sosa to erase the Hawks' lead and earn their first series win of the season.
Tri-City (7-11) starting pitcher Ben Hughes went six innings in his fourth start of the season for the Dust Devils, allowing five runs on six hits while striking out two and walking two. Hughes was relieved by righty Chris Dennis (2-1), who earned his second win of the season, throwing two shutout innings. Will Rankin (Sv, 5) earned his Northwest League-leading fifth save of the season, throwing a scoreless ninth inning.
Boise (6-12) starter Tayler Scott allowed two runs, one earned, over 4 1/3 innings pitched. Relievers Hayden Simpson and Su-Min Jung (0-1) allowed five runs over the final 3 2/3 innings for the Hawks. The Hawks' pitching staff allowed 10 walks and five hits on the night.
Sosa was once again the leader of the Dust Devils' offense, going 2-for-4 with five runs batted in. Both of Sosa's hits were important for Tri-City, the first a three-run home run in the fifth inning to cut the Hawks' lead to one run at 5-4. He then came up with the bases loaded and two out in the eighth inning, with the game tied, and delivered the game-deciding two-run single to left field. Outfielder Kyle Von Tungeln, in his professional debut, drove home the other two Dust Devils runs, going 1-for-4 with two runs batted in on the night.
The series finale between the Dust Devils and Hawks is Tuesday night at Gesa Stadium as we celebrate Independence Day early at the ballpark. There will be a post-game fireworks show, presented by Washington River Protection Solutions, as Tri-City looks for their first series sweep of the season. Right-hander Peter Tago will start on the mound for the Dust Devils with righty Ian Dickson getting the start for the Hawks, with first pitch at 7:15 p.m.