River of Fire Celebration barge preparations
Posted:
Updated: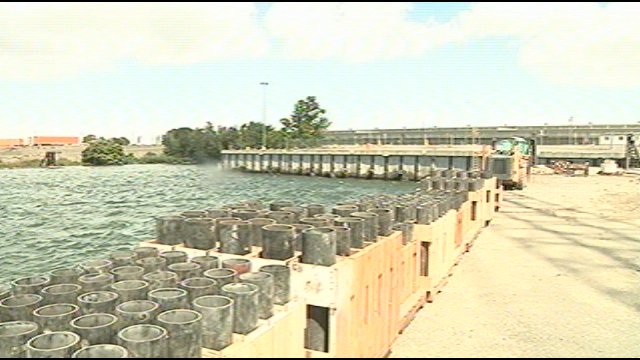 PASCO, Wash.-- The 26th annual River of Fire Celebration will take place Wednesday at Columbia Park in Kennewick.
Tuesday, crews were busy getting the fireworks barge ready for the big event. Wednesday night's fireworks show is the biggest in eastern Washington. The Tri-City Regional Chamber of Commerce, The City of Kennewick, Hapo Community Credit union and Western Display Fireworks Company all come together to put on the event that draws about fifteen thousand people to Columbia Park.
Thousands of people from across the region come to see the show every year. Kennewick Mayor Steve Young says the celebration is very important to the Tri-Cities.
"This is what the 4th of July is all about. It's a place for families to come together. Spend time together in the park. Enjoy the day all building up to that final fireworks display at ten o'clock tomorrow night," says Young.
The twenty minute show cost about twenty-five thousand dollars to put on, but Lori Mattson of the Tri-City Regional Chamber of Commerce says, the large crowd it attracts gives a big boost to the local economy.
"Those people stop at all of the stations and all the quick marts. They stay in hotels. They eat at our restaurants," says Mattson.
Fireworks display operator, John Falleen says, each year they try to make the fireworks show even more awe inspiring than the last.
"The quality of the shells has really gone up in the last couple years. There's a lot of new effects and so I expect a really spectacular show tomorrow night," says Falleen.
Fireworks are illegal in Kennewick, so the city wanted to provide a safe alternative.
"City of Kennewick does not allow the sale or use of fireworks inside the city limits. It's important the city however provide to the community the displays, the fireworks," says Young.
The fireworks barge will be stationed fifteen hundred feet from the shore in the middle of the Columbia river, providing a safe, fun way to enjoy the biggest fireworks show this side of the mountains.
Besides the fireworks show, there will be a day filled of activities at Columbia Park including a picnic and a kids train ride. The city does want to remind people no alcohol or personal fireworks are allowed at the park, keeping it a family safe event