School bus stolen, damaged, then dumped in an orchard
Posted:
Updated: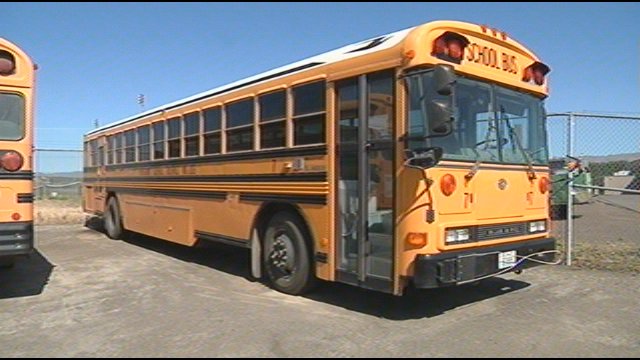 COWICHE, Wash.-- A handicap school bus was stolen from the Highland School District Wednesday night and taken on a joyride through town before being dumped.
A farmer on Willcox Road near Tieton found the bus in his orchard Thursday morning.
Workers with the Highland School District are left picking up the pieces, after someone stole the bus, and rammed it through a gate causing a lot of damage.
An estimated $2,000 worth of damage to the fence, a whole lot of work for district employees, and a surprised community, many people shocked this happened in Cowiche.
"I'm surprised this happened out here. There's usually not that much vandalism and crime out here," said Sunni Gefre.
Gefre lives in town and owns a coffee stand right across the street from Highland High School, where the buses are stored.
She says the bus was in pretty bad shape when it was towed back to school Thursday morning.
"I saw the bus probably about an hour ago and the front windshield was broken and the side looked like it was damaged," said Gefre.
Yakima County Sheriff's deputies are investigating the crime. They say it happened between 8pm last night, and 6am Thursday morning.
A group vandalized some buses and then stole one of them, ramming it through the locked gate and taking it for a joyride through Highland. A dangerous drive for someone who doesn't normally drive a school bus.
"Especially if they're not familiar with the operation of the vehicle, I mean the size, it could have been really bad if it had been a different time of day," said Sgt. John Durand.
Luckily no one was hurt and the bus was found, but it had a lot of damage.
In all, the district's transportation supervisor says it'll likely cost $50,000 to fix the bus, and repair the fence. A lot of money for any district, especially a small one like Highland.