Man in a coma after incident outside Jack Didley's
Posted:
Updated: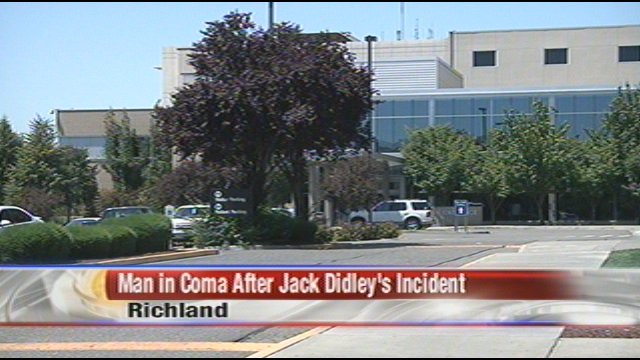 RICHLAND, Wash.-- A Kennewick man is now in a coma following an incident outside Jack Didley's bar in downtown Kennewick on the 4th of July.
Ben Ensign was hurt outside Jack Didley's bar when bouncers allegedly removed him from the bar and dropped him, slamming his head into the ground.
Ben is now in critical condition at Kadlec Medical Center in Richland. He is in an induced coma to stabilize his vitals. They don't know when or if he will ever come out of it.
Ben Ensign's family and friends gathered at Kadlec Medical Center. They came from all over the U.S. to be by his side during this traumatic time. They want to know what happened that night outside Jack Didley's that sent him to the ICU with a potentially fatal head injury.
Ben's uncle, Kevin Ensign, says he thinks something more must of happened because the injuries are so severe.
"That doesn't happen just by being dropped. The whole left side of his brain is swollen. It doubled in size. It's pushing he right side over," says Kevin Ensign.
The owner of Jack Didley's, Todd Jones, says there's a lot of misinformation going around and surveillance videos will show they're not at fault.
"I'm not going to debate the family's statements or anyone else's. It goes back to the video that shows it all. It shows exactly what happened from beginning to the end. It speaks for itself," says Jones.
Ben's brother, Brandon Ensign, is shocked by the incident and confused by how a business could let this happen.
"I think Jack Didley's is not in the business to inflict the amount of trauma that occurred on July 4th," says Brandon Ensign
Ben is a single father with a six year old daughter. His family says he's charismatic and graduated magna cum laude from Eastern Washington University.
They don't think he would initiate a fight.
"He was the guy who was doing whatever it takes to make people laugh. I just want to find out what's going on," says Kevin Ensign.
Jones is not saying what's on the surveillance video during the current investigation. The Ensign's made a website where they're posting updates on Ben's condition. The site also shares information about his life.