Professional tennis in Yakima
Posted:
Updated: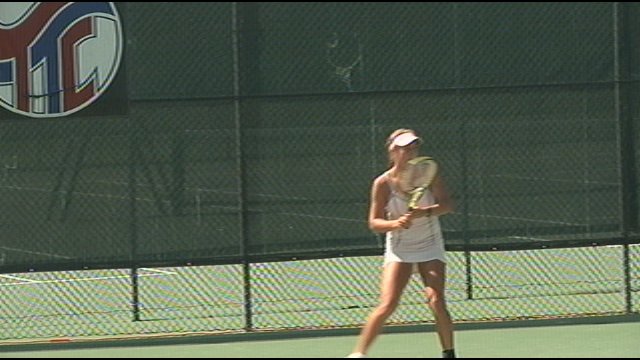 Yakima, WASH.--Women's professional tennis has come to town and Yakima's own Jana Welt is playing with the best.
"Obviously I hit still quite a bit with some of the juniors and the members here, but it's not really quite the same as going out there in competitive situations," said Welt. "So it took a little bit of getting used too."
Welt played professional tennis ten years ago and was once ranked 64th in the world. She has played in all the Grand Slam tournaments and made it to the Olympics in '96. She appears to be easily sliding back into competitive tennis, but says there's no chance of returning pro.
"It's all for fun and it's enjoyable to get out here and hopefully it will bring some members and locals out," said Welt.
Even though Welt may not be looking to play pro again, the majority of the 64 girls playing in the USTA Women's Pro Circuit Challenger Tournament are.
"All these girls are looking to hit it big time and get into major Grand Slams," said Stephen Welt, the general manager of the Yakima Tennis Club. "This morning we have the Wimbledon final going on. Andy Murray is playing Roger Federer. Everybody started at this level."
By the end of this tournament the highest qualifying player will earn a wild card into the main draw for the Grand Slam U.S. Open at the end of August.
Diana Ospina, a player from Michigan said, "Players are the top 200 in the world. These are players that you're going to see at the US open Qualifier. So I think this town is really really lucky to have all these players coming here, and we're lucky for the town to be putting this on as well."
Despite the heat, the tournament will continue throughout the week, but there could be some changes when temperatures hit triple digits.
"We had to start matches an hour earlier," said S. Welt. "If the temperature reaches 104, then we actually have to stop matches till the temperature goes down."
The first main draw event will start Tuesday and the final round will take place next Sunday.