Heritage University's oldest building destroyed in fire
Posted:
Updated: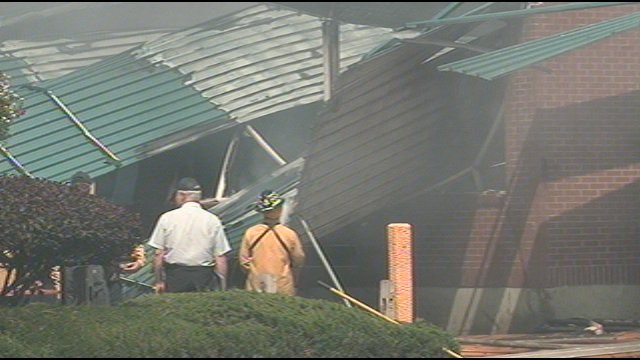 Toppenish, WASH.--The oldest building at Heritage University in Toppenish is completely destroyed from a fire that started Sunday afternoon. The fire burned from one end of the building to the other, and the roof and ceilings have all collapsed.
Dave Martin, Fire District Five Captain, said, "When our crews first went in they weren't able to access it because of the design of the building and the ceiling space. At that point the fire just got a really good hold on the attic and ran the attic on us."
Petrie Hall housed the cafeteria, bookstore, several classrooms and most of the IT offices. The school's servers and computers are completely lost.
The flames are believed to have originated somewhere in the cafeteria.
President of Heritage University, John Bassett, said, "We have inferred that it started somewhere either related to a coffee machine or something, but we don't know yet for certain. We're still investigating that."
Fire Marshals will not be able to determine the cause until the fire has completely burned out, which could take a while.
"The fire's going to have to burn itself out," said Martin. "We don't have enough water to put it out and it's going to burn probably a good part of the week if not all week."
About 60 firefighters from different departments joined forces to keep the blaze from spreading, and no other buildings were seriously damaged.
Before Petrie Hall became part of the University 30-years ago, it was McKinley Elementary School. Bassett said a little part of people's history has been lost.
"I think a lot of people shed some tears over losing their original building," said Bassett. "There's no question part of the character of the university is located in that building."
No one was injured in the fire. Captain Martin said the current damage is estimated to be around $2.8 million.
The Yakima County Fire Marshal's office is handling the investigation.