Dust Devils Sweep Aside Indians
Posted:
Updated: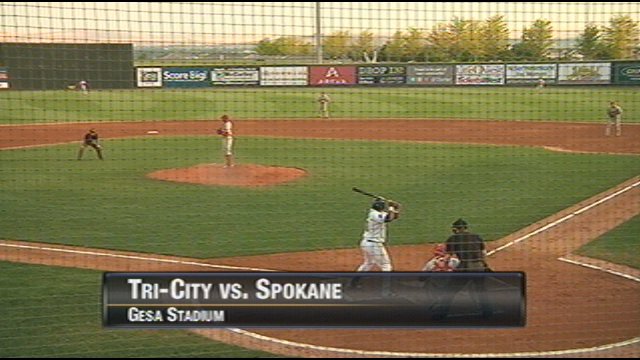 By Tri-City Dust Devils
The Tri-City Dust Devils defeated the Spokane Indians 4-3 Monday night to earn their second sweep of the season. The win also puts the Dust Devils over the .500 mark for the first time this season and kept pace with the Yakima Bears for first place in the Northwest League East Division.
Dust Devils (13-12) first baseman Miguel De Leon got the offense going early for Tri-City, hammering a 2-run home run to left field in the first inning, his first home run as a Dust Devil. Spokane (8-17) answered back quickly, scoring one run in both the third and fourth innings to tie the game. But a single from Tri-City designated hitter Kyle Von Tungeln followed by a sacrifice fly from shortstop Rosell Herrera in the bottom of the fourth put the Dust Devils in front 4-2. De Leon and Von Tungeln ended the night 1-for-4 and 2-for-3 respectively.
The four runs scored throughout the first four innings is all the Dust Devils' pitching staff would need as starter Shane Broyles (2-0) earned his second win of the season. Broyles worked five innings, allowing two runs on four hits while striking out seven and walking one. Righty Tyler Gagnon relieved Broyles, allowing one run on two hits over three innings. Lefty Brook Hart (Sv, 2) came in for the ninth, going 1-2-3 to earn his second save of the season.
Spokane (8-16) starting pitcher Abel De Los Santos (3-2) had his worst start of the season, allowing four runs on six hits over 5 1/3 innings pitched. It was the first time in four starts that De Los Santos had allowed a run and raised his earned run average from 0.86 to 2.05.
The Dust Devils will look to continue their recent success as they go on the road and take on the Everett AquaSox. That series will begin Wednesday July 11th after Tri-City, and the rest of the Northwest League, gets its first of three off-days this season. The Dust Devils return to Gesa Stadium on July 19th for a five-game series with the Salem-Keizer Volcanoes.