Cooling conundrums
Posted:
Updated: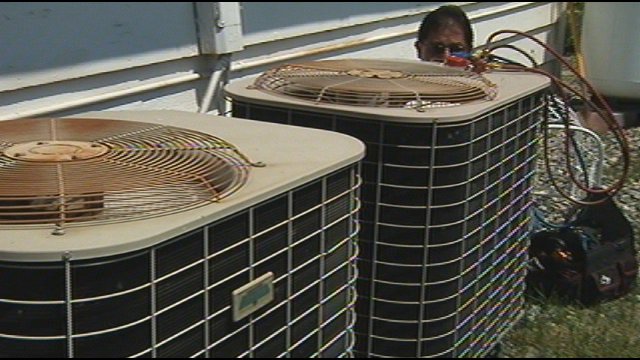 KENNEWICK, Wash. - When temperatures hit the triple digits, air conditioning is a must. When it's not working it can mean hot, sleepless night for you and busy, busy days for A-C Technicians.
For Gonzalo Gallegos, that means a lot of overtime. KNDU caught up with him during a routine maintenance call this afternoon.
"Right now I seem to be a pretty popular guy with most people," said Gallegos.
He's an HVAC technician with Total Energy Management and has been on call since the heat wave hit, working 12-plus hour days.
"Especially when it gets up into the triple digits, a lot of air conditioning units that were possibly on the brink, that's when something will sometimes fail," said Gallegos.
He said the techs are responding to about ten calls a day, which is above average for the company. Wednesday he was doing a routine check of Coy Jarrett's A/C unit.
"You either pay it up front for maintenance or you have more breakdowns and that type of thing," said Jarrett. "It'll cost you more in the long run by not having preventative maintenance."
Gallegos said Jarrett is right. Preventative maintenance is the best thing you can do to insure your air conditioner is doing its job. But if it does break down, Gallegos said to call him to do his job.
"We try to keep a variety of parts in our trucks and I'd say 9 times out of ten we can fix their machine right on the spot."
Gallegos said the number one problem they see every summer are failing capacitors. But luckily, that's usually a quick fix. Aside from having your a/c unit checked out regularly, some tips to keep it running well are to keep it set at about 75 degrees and keep any outside units clear of weeds or lawn clippings.