Hospital employees petition for new union
Posted:
Updated: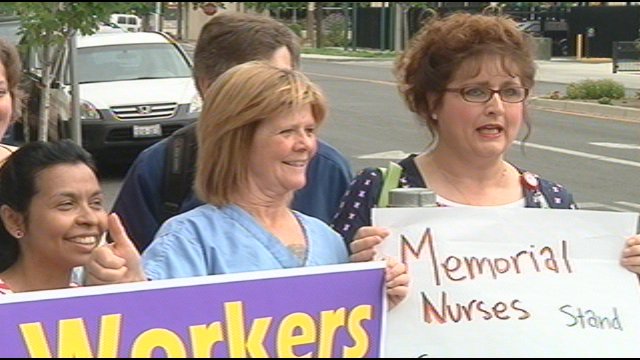 YAKIMA, Wash.-- Yakima Valley Memorial Hospital employees gathered in Downtown Yakima Thursday hoping to get information on when they can vote on a new union.
Employees petitioned recently to create a new SEIU union. Right now, SEIU represents about half of the registered nurses at Memorial Hospital, but if all goes according to plan, they could be the voice for almost 800 other employees at the hospital.
Union representatives and hospital lawyers tried to reach an election agreement on when employees could vote to create the new union and who's eligible, but SEIU reps say the hospital is just putting up roadblocks, trying to prevent the vote.
A couple dozen hospital employees turned out and say they just want to have a say in how the hospital is run.
"We want to have a bigger voice, we want to join with the nurses to have a voice on how we provide patient care. We feel that we also deserve respect as professionals," said Libby McRae, a surgical technologist at Memorial.
In a statement, Memorial's Senior Vice President, Russ Myers said all hospital employees have the right to decide if they want to be represented by a union, but there are implications and it's Memorial's duty to communicate those implications to them.
If they're not able to agree on an election date, the next step would be a hearing, which would cost both sides a lot of money and time.