Kennewick couple holds Zombie wedding for good cause
Posted:
Updated: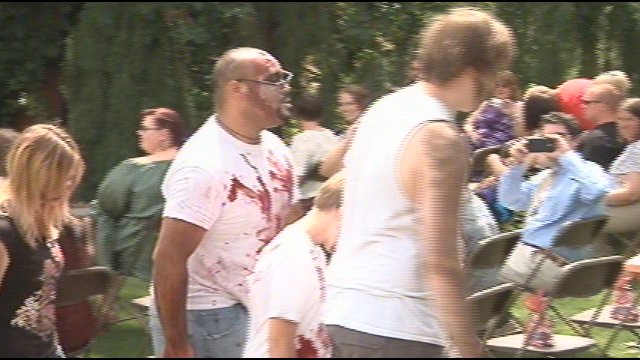 PROSSER, Wash. -- One Kennewick couple was "dying" to find a creative way to say "I Do." So when they figured out a way to combine their love for Zombies with a cause that was near and dear to their heart, holding their wedding on Friday the 13th was a no brainer.
"We just wanted to have a fun wedding and at one point somebody suggested zombie theme. So I thought, it would actually be easy for everyone to participate," says groom Paul Fulks.
His bride to be, Miriam Itzkowitz couldn't agree more. "Paul and I are both big fans of George Romero and classic zombie movies and could not think of anything better," said the glowing bride on her wedding day, wearing a white lace dress with black lace around the waist and red band.
So the pair started planning for their big day, and to their surprise, a friend showed them a YouTube video, of a Tri-Cities charity group who do an annual walk in Richland each year, Zombie Walk For Brain Cancer. " I don't know what I would have done. I was trying to think of something that could be zombie but not turn into a Halloween party.' says Itzkowitz upon the discovery of the group.
The Zombie organizer Oliver Posenauer says it was his first wedding request, but he couldn't say no. "I thought it was an awesome idea because I love over the top stuff and the opportunity to do this and help people out..I was all over it," says Posenauer.
The Zombies crashed the wedding free of charge, but they did accept donations for brain cancer. Posenauer says the money is going to the Chris Elliott Foundation who does research for brain cancer.
The cause is especially dear to the groom's heart who suffered a brain aneurysm. "This makes it an ever bigger thing for us because my mom has had brain surgery before and so it just seems like a great cause. It just really fit with everything we wanted to do today," says Fulks.
The wedding included Zombies, a black and red color scheme, a black velvet Zombie wedding cake and of course hatchets for the bridal party.
The bride knows she found the right guy. "That's not easy to find, you can't have a zombie wedding with just anybody. And the fact that all our friends and family were on board is especially miraculous," says Itzkowitz.