Timmy Bowden memorial
Posted:
Updated: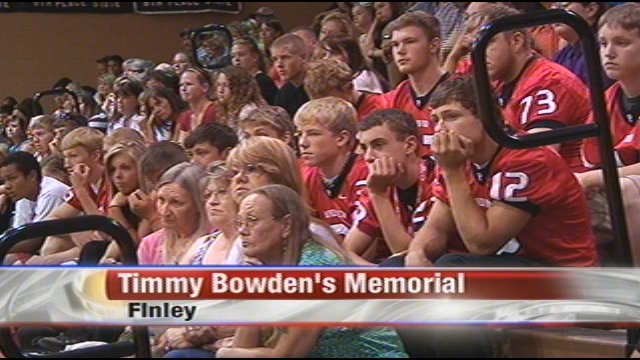 FINLEY, Wash.-- People gathered to remember the life of Timmy Bowden, a 14-year-old boy from Finley, who drowned after a boat he was on sank in the Snake River on June 23rd.
Hundreds filled up the Riverview High School gym in Finley to celebrate the Timmy life that tragically ended far too early.
They handed out red bracelets with his name on them and the word tenacity. A word they think embodies the ambitious and persistent boy he was.
TImmy Bowden's aunt, Cindy Edden, says he was a lively spirit.
"Timmy only lived fourteen years but he lived every day to the fullest. He was a great kid and he'll be dearly missed," says Edden.
Friends and family say Timmy was a natural athlete. He played lots of sports, but his favorite was basketball. He always worked on improving his game and envisioned getting a college scholarship to play. He dreamed of playing professionally one day.
His friend, Josh Marshall, says he was known as a great basketball player at school.
"He was a really good basketball player. I just remember playing with him on the courts over here and he was just crossing over people," says Marshall.
It's difficult for mourners to make sense of why someone dies so young, but friends and family want to take away something positive from this.
"Look back and see how much of an impact this has on the community and not to take stuff for granted. Remember him in a good way and try to learn from what happened," says Marshall.
"It's tremendously important to Timmy's family that we're all here and the community is here. This is where he would have started high school this year. It's a celebration of life," says Edden.
Both Timmy's family and the Walla Walla Sheriff's Office encourage people to wear life jackets when on the water to prevent tragic incidents like this one.
There is a memorial fund at Gesa Credit Union in his name where people can donate.