One home destroyed, two others damaged in fire
Posted:
Updated: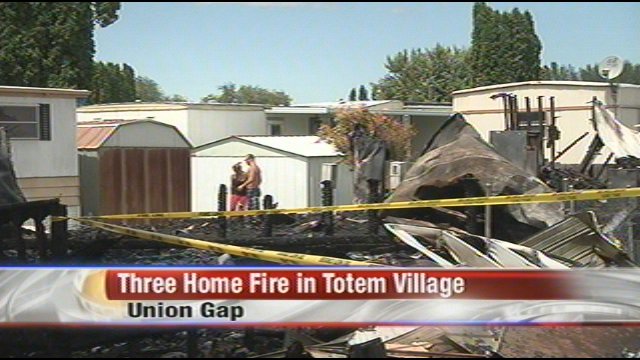 Union Gap, WASH.--There is absolutely nothing left of a home in Union Gap's Totem Village after neighbors say a fire quickly grew out of control.
The fire started around 4 a.m. Sunday and affected three homes in the area.

Neighbor Jolene Alexander said she was woken up by people screaming and yelling. She ran outside and found that the house directly across from her was completely engulfed in flames.
"When we started seeing the flames headed toward this house, we tried getting the hose and spraying over here," said Alexzander. "The flames were so hot that you couldn't even be as close as we are right now."
The fire quickly spread to the house next door and destroyed the neighbors bedroom and kitchen. The people made it out okay but some pets were lost.
"We're very fortunate that they got out," said Alexzander. "It's just a sad day for all of us because Bella her dog was such a great dog, and then the little puppies were only, I believe 5, 6 days old. So they were just babies."
Neighbors say a grandmother lived in the house that burnt down with her daughter and grandchildren.
"We try to take care of one another, do onto others as you want done onto yourself kind of thing," said Alexzander. "If it were to happen to me, I hope that they would do the same."
Neighbors are gathering clothes and collecting donations for the families.
Neighbors say the fire is believed to have originated in the laundry room from a problem with the dryer, but the cause is still under investigation.