Three mobile home fire still under investigation
Posted:
Updated: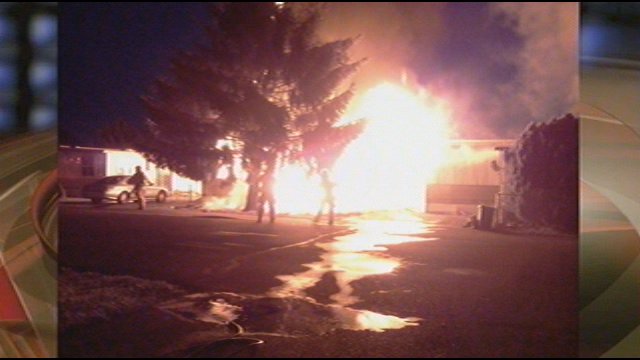 West Valley, WASH.--Victims of a fire early Sunday morning on Athanum Road in West Valley were trying to salvage whatever they could, but finding little left.
Cindy Crocker, a victim of the fire, said, "We'll just take it one day at a time. Today's our first day. Can't even really still think about it. You know, it's really hard, when your whole 20 years of your life was in that house and everything's gone."
Six different fire departments responded to the scene around 4:30 a.m. and found one mobile home fully engulfed. Firefighters say the blaze quickly spread to two other homes due to their close proximity and big trees in the area.
West Valley Fire Deputy Chief Nathan Craig said, "We needed the additional personnel as well as water supply was an issue because there are no hydrants in that mobile home park."
Firefighters say the investigation could take a while as they work with victims and neighbors to try and determine the cause.
"They have to rule out lots of different things, but they're looking into a dryer that the owner of the home had been malfunctioning for them so that's one of the areas they're concentrating on, and then just trying to eliminate all other sources," said Craig.
Crocker said community support has been overwhelming. Neighbors and members of Athanum Valley Assembly of God have been collecting donations and clothing items for the victims.
Crocker said, "Lots of community support. I mean, I've had already like probably 30 phone calls already this morning from everybody."
Firefighters say the damage totaled around $20,700, but that estimate doesn't include the contents of the homes. The cost of contents could add up to around $24,000.