Pasco fertility clinic offers natural way to have a child`
Posted:
Updated: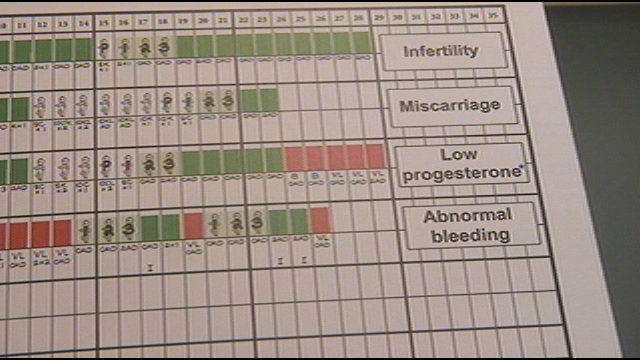 PASCO, Wash. -- Starting a family is a dream many couples have, but more and more women are having trouble conceiving. "The CDC estimates one in six couples is struggling with infertility at some level," says Shira Wise, the Supervisor at Lourdes Fertility Care Center in Pasco.
Wise has treated more than 370 patients using the natural method over the last decade using the Creighton Model Fertility Care System. "Our program is up to 80% successful with treating infertility, because we look at the underlying health issues that are causing the infertility," says Wise. She started working with Lourdes two years ago, mostly because of their Catholic faith.
The clinic deals with reproductive issues the natural way without IVF or artificial insemination, and it's not just for conception help. NaProTECHNOLOGY, or using the natural way can help with issues like family planning, infertility, menstrual crams, PMS, ovarian cysts, irregular or abnormal bleeding, PCOD, miscarriage, postpartum depression, prematurity prevention, hormonal abnormalities, chronic discharges, and other health problems.
39 year old Wende Carlisle and her husband Evan spend 14 months trying to conceive, and when their doctor ran tests, he said everything looked good. "It was just a quick fix, trying to get it out the door. They recommended artificial insemination, IVF," says Evan Carlisle.
But Wende wanted to find the real problem. "Especially as I was getting older, I just wanted my body to be healthy. I didn't want to do everything in extreme measures because if my body wasn't healthy, then I didn't think that it would probably be healthy enough to carry a child," said Wende Carlisle.
So they tried the Lourdes Fertility Care Center, and for three months, she charted her cycle. Doctors at the clinic learned that Wende's problem was simple, she wasn't producing enough mucus to get pregnant. So doctors gave her some natural remedies, including HCG. "Vitamin B6,and amoxicillan was another thing," recalls Carlisle.
Within six months of going to the clinic, and two cycles of adding in the natural remedies, Wende was pregnant. "It makes sense, it just makes sense," she says now holding her five month old, healthy son, Rhett.
Wise says there are a number of reasons women have problems conceiving and keeping a full term pregnancy. "It can be environmental, health related, stress, a woman's age too," she says. She says often times women who spend many years on birth control pills are also having problems because they mask the real problem by forcing women's bodies to get their periods. She says often times when women get off the pill, the original problem remains.
The Carlisle's say they spent about $4,000, not all out of pocket using the clinic. Wise says, typically, the patients average about $1,000, cheaper than using IVF which can run anywhere from $10,000 to $15,000 a try.
For more information, click here.