Mudslides closes river canyon road
Posted:
Updated: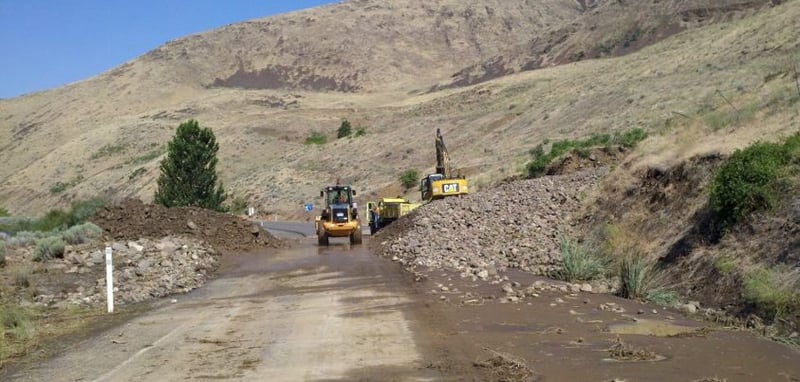 YAKIMA RIVER CANYON, Wash.-- Tuesday night's storm caused some serious problems for folks trying to get through the Yakima River Canyon. Heavy rain caused two mudslides on State Route 821, closing down part of it.
Department of Transportation crews who were hard at work, cleaning up tons of mud and rock that slid onto the canyon road about six miles south of Ellensburg.
Two separate mudslides covered the highway, in some area's as high as 10 feet. Not a common sight for SR-821.
"Normally it's just rocks. The last time this happened in about the same area was about 1998," said Scott Clark, a maintenance supervisor with the DOT.
DOT crews say several inches of rain fell in just one hour and that took a lot of the material off the mountain, pushing 500 tons of mud and rock into the roadway.
"The ground's soaking up just so much and it's saturated. And then when you're getting more on top of it, it's just causing, there's nowhere for it to go so it's causing slides and running down the hill," said Clark.
Steff Thomas owns Yakima River Tubing just down the road from the slides and says he was shocked to hear what happened.
"This is my third year in business here down on the river and I was kind of surprised there was actually a slide," said Thomas.
He said the storm was pretty bad in the area last night. Luckily for his business though, people wanting to float could still get up to the Umtanum Recreation Area.
"It won't hurt me a whole lot during the week. Now if it was a Saturday and Sunday, yeah we'd have a sting," said Thomas.
The DOT says the mess will definitely be cleaned up by then though. In fact, they plan to have that section of 821 back open by late Thursday afternoon.
But with flood warnings still in effect, another slide is possible.
"You know, it's a good recommendation to stay out of here because with the rain, we're obviously going to get more rock fall and then with the slides like this, it'd be a good idea to stay away," said Clark.