FDA still has 27 year ban in place not allowing gay men to donate blood
Posted:
Updated: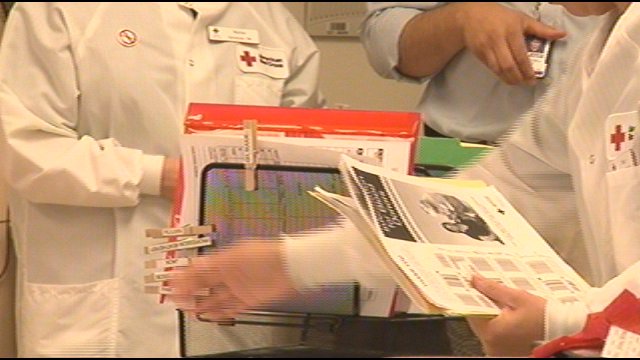 KENNEWICK, Wash. -- Summer is a time when there's a higher need for blood donations, but for the last 27 years, there is a group of people who have a lifetime ban on donating blood.
Current Federal Food and Drug Administration policy bans donations from a man who has had sex with another man, even once, since 1977. This dates from the height of the HIV/AIDS crisis in the 1980s.
"They don't want exposure to anyone who may have had HIV to donate blood. However a lot of that risk, has to do with engaging in high risk behavior, not simply being gay," says the Benton Franklin Health District Officer Dr. Amy Person.
Two years ago, the FDA opted to renew this ban, and since a U.S. Department of Health and Human Services advisory committee called their decision "suboptimal," The department decided to launch a pilot study to assess alternative criteria.
"So they are actually looking at conducting some more pilot studies to try to determine if there's a safe way to screen men who have sex with men in order to maintain a safe blood supply, but also not unfairly eliminate potential donors," says Dr. Person.
Senator Patty Murray signed a letter last month mailed to Health Secretary Kathleen Sebelius supporting their pilot program. She also sent out a news release saying, "This marks another step in the push for equality and understanding for the LGBT community. I am hopeful the findings will reverse the current discriminatory policy and allow for healthy Americans to once again help in the effort to save lives through blood donation."
In the meantime, Person says there is a reason gay men are on the list. She says they make up two percent of the population, but 60% of new HIV cases. She says however there are many other people engaged in "high risk" behavior that are only banned for a year. She says, it seems only fair to classify gay men in that category as well.
She also says, science has come a long way since the 80's "These new methods, they can detect infection within 9-10 days." says Person.
Steve Stegeman, Chief Executive Officer Pacific Northwest Blood Services Region - American Red Cross says he's disappointed having to turn away potential donors. The Red Cross issued this statement:
"The top priorities of the American Red Cross are the safety of our volunteer blood donors and the ultimate recipient of blood. We believe all potential donors should be treated with fairness, equality and respect, and that accurate donor histories and medically supported donor deferral criteria are critical to the continued safety of blood transfusion.
We believe the current lifetime deferral for men who have had sex with other men is unwarranted and donor deferral criteria should be modified and made comparable with criteria for other groups at increased risk for sexual transmission of transfusion-transmitted infections. We are dedicated to fairness and equality in the formulation and administration of donor selection criteria in order to ensure a safe and plentiful blood supply for all patients regardless of beliefs, race, gender or sexual orientation.
On June 11, 2010, the Department of Health and Human Services Secretary's Advisory Committee on Blood Safety and Availability voted not to recommend a change to the Food and Drug Administration's (FDA) policy of a lifetime deferral for men who have sex with other men. The Red Cross supports the use of rational, scientifically-based deferral periods that are applied fairly and consistently among donors who engage in similar risk activities.
The American Red Cross is disappointed with the Committee's decision; however, our organization is obligated by law to follow the guidelines set forth by the FDA regarding donor eligibility. We recognize the concerns shared by the Advisory Committee on Blood Safety and Availability and patient advocate organizations during the June 10-11, 2010 advisory committee meeting that additional research be conducted to evaluate and prevent potential risks to the blood supply. Our organization stands ready to assist in collecting needed data regarding blood safety.
The Red Cross intends to continue to work through the American Association of Blood Banks to press for donor deferral policies that are fair and consistent and based on scientific evidence, while protecting patients from potential harm."