De Leon, Dust Devils Slam Volcanoes
Posted:
Updated: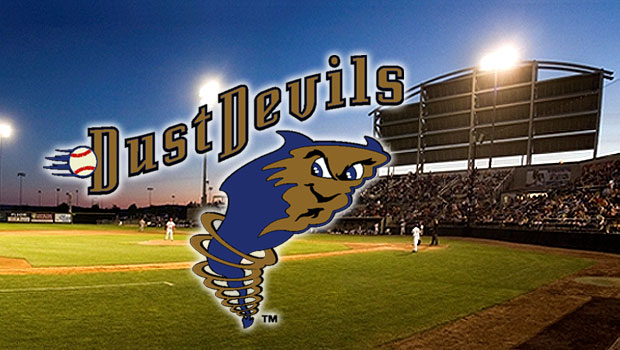 By Tri-City Dust Devils
A fifth inning grand slam off of the bat of Tri-City Dust Devils first baseman Miguel De Leon gave the Dust Devils their first lead of the game, a lead they would not relinquish, as Tri-City defeated the Salem-Keizer Volcanoes 7-4. The Dust Devils trailed 4-0 going into the bottom of the third inning, but the 2,886 in attendance at Gesa Stadium Thursday night watched as the Tri-City offense brewed up a storm at the plate and came back for the series-opening victory.
Early scoring was a theme throughout the first innings of the game, the first of five matchups between the Dust Devils (15-19) and Volcanoes (12-22) at Gesa Stadium this season. Tri-City starting pitcher Ben Hughes (2-3) allowed a run in the second and three more in the third, before settling down and ending his appearance with two shutout innings. Hughes finished the night allowing four runs, one of which earned, on seven hits over five innings on his way to his second win of the season. Relievers Chris Dennis and Ryan Arrowood combined to throw three shutout innings of relief and lefty Brook Hart (Sv, 3) pitched the ninth and earned his third save of the season
The Dust Devils offense backed up their pitching staff on a warm, stormy night in the mid-Columbia, scoring seven runs on ten hits. Four of those runs came off of the bat of De Leon in the fifth inning, when the first baseman hammered a two-out grand slam to left field to put the Dust Devils up 6-4. Dust Devils shortstop Rosell Herrera, third baseman Patrick Hutcheson, and outfielder Francisco Sosa also chipped in, getting two hits apiece.
Salem-Keizer starting pitcher Kendry Flores (1-3) started the game well, allowing one run through the first four innings. But the fifth inning did him in, and he allowed five runs in the inning alone as he finished the night allowing six runs over 4 2/3 innings on the mound.
Game two of five between the Dust Devils and Volcanoes is Friday night at Gesa Stadium as Tri-City looks for their second consecutive win. It will be another $1 Family Feast Night at the ballpark, with all hot dogs, popcorn, ice cream sandwiches and 12-ounce Coke products on sale for just one dollar all game long thanks to Lamb Weston. The first 500 fans in attendance at Friday's game will also receive an Erik the Peanut Guy bobblehead courtesy of Gesa Credit Union. Right-hander Peter Tago is scheduled to get the start for the Dust Devils on the mound with righty Chris Stratton starting for the Volcanoes. Gates open at 6:15 p.m. with first pitch at 7:15 p.m.