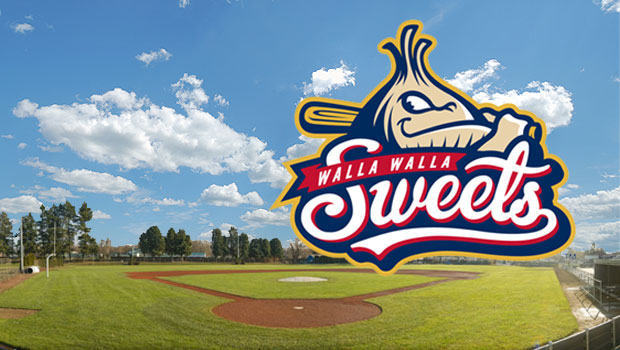 By Walla Walla Sweets
WALLA WALLA, Wash. – Klamath Falls scored the first five runs of the game and the last five runs of the game to defeat Walla Walla 10-1 on Friday night at Borleske Stadium.

The Gems (19-19) have now defeated the Sweets all four times this season and have won 10 games in a row and 17-of-18 since starting 2-18. The Sweets (15-23) have dropped eight of their last 10 and are eight games out of a playoff spot with 16 games to play.

After a scoreless first inning for both teams, the Gems put five runs on the board over the next two innings. An errant pickoff throw and a wild pitch scored the first run and Tanner Nielsen's two-run home run to left made it 3-0 in the second. Greg Velazquez's sac fly and Conner George's RBI single made it 5-0 after 2 ½ innings.

The Sweets were finally able to get on the board in the bottom of the third thanks to a two-out double from Beau Fraser. Brett Jacobs reached base to start the inning, advanced to second with two outs and scored as Fraser ripped a double off the wall in left-center.

It was all Gems after that, as the hottest team in the league added to their lead as the game went on. Nielsen's RBI single in the fifth made it 6-1 and Nick Rulli's infield single in the seventh made it 7-1. Nick Armenta capped the scoring with a two-run double in the ninth inning.

Brian Clough picked up his second victory of the summer, allowing just one run on four hits over five innings. The Sweets posted a two-out rally in the second, loading the bases on two singles and a hit-by-pitch, but Clough got a fielder's choice to end the threat. Fraser's third-inning double was the last hit that Clough allowed. Eric Yardley followed with two scoreless frames and Andy Lines and Chase Tokunaga added scoreless innings.

The Sweets had several chances to get on the board but were unable to cash in on their chances. They couldn't capitalize on a leadoff walk in the fifth and had promising innings in the sixth and seventh come to an end with double play balls.

Matt Imhof struggled with command in his fourth start of the summer, allowing five runs over 2 2/3 innings. Luke West came on in relief in the third and pitched a season-high 4 1/3 innings. He struck out a season-high six batters, allowing three runs on seven hits. J.J. Robinson tossed the final two innings, allowing two runs. Shane Zeile led the offense with two hits for the third-straight game.

The series continues on Saturday with a 7:05 p.m. first pitch. Tyler Roberts will start for the Sweets.