Columbia Cup course set up
Posted:
Updated: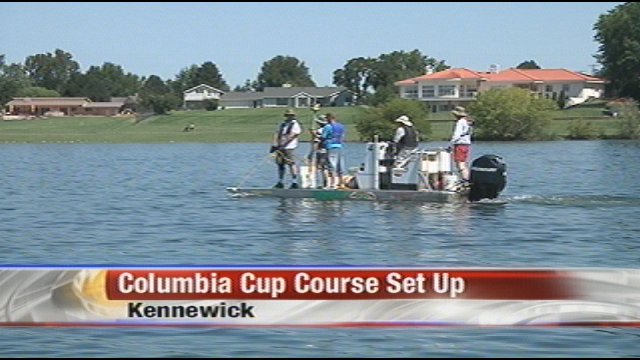 KENNEWICK, Wash.-- Columbia Cup Water Rescue Operations volunteers took off on their rescue sleds at the crack of dawn Saturday to start laying the course for next weekend's races.
It's just the beginning of all the prep work needed to put on the major event that draws thousands to our community each year.
Water rescue operations volunteers started setting up the Columbia Cup course by dropping anchors in the water that are attached to Styrofoam buoys. Inflatable markers hook on to the Styrofoam buoys and guide the way for the hydroplane racers.
Water Rescue volunteer, Michael Hendricks, says they're working hard to get things done, well in advance.
"The more things we can get completed now to make everybody's event down here more smooth is what we strive for," says Hendricks.
Volunteers put in thirty-four buoys for the two and a half mile course and feel that the work they're doing is important for the community.
"It's a huge event for the Tri-Cities and the volunteers make this event happen. And I know a lot of my volunteers for the rescue team, they enjoy what they do," says Hendricks.
Three surveyors also ride along on the rescue sleds to check each buoy is placed in exactly the right spot. Two surveyors use equipment on the side of the river to measure the positioning. One surveyor, Aaron Dyck, says they check the accuracy of each placement multiple times.
"Our field crews are out there with survey grade GPS, actually setting the buoys . And me as a licensed surveyor that's certifying the course. I am just verifying from here. Just keeping an eye and making sure everything is set to the accuracy that we're looking to achieve," says Dyck.
Course preparations are critical to the races.
"If it's shorter and they set a course record then it wouldn't be fair because they wouldn't be racing apples to apples against other competitors that have raced this course in the past," says Dyck.
The volunteers will be back checking on the course Wednesday and will survey the course every morning during the races.