SEATTLE 2012: Unlimited Hydroplane Racing at Seafair - Steve David wins!
Posted:
Updated: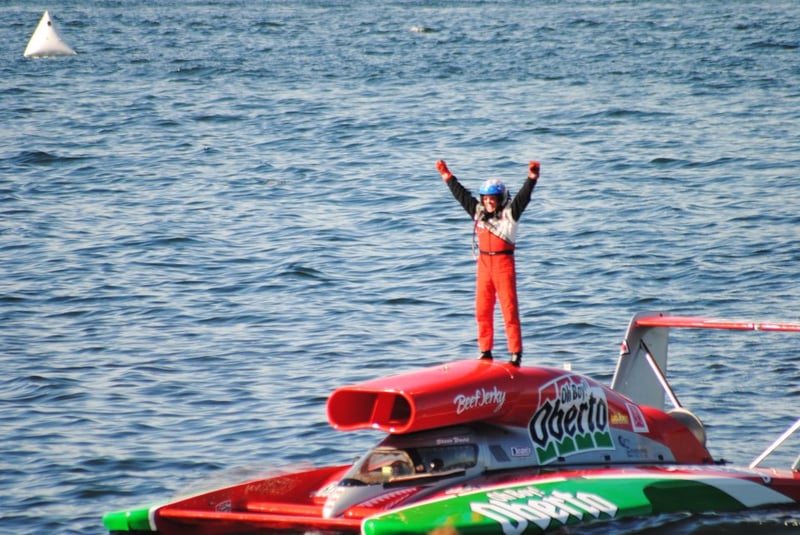 © H1 Unlimited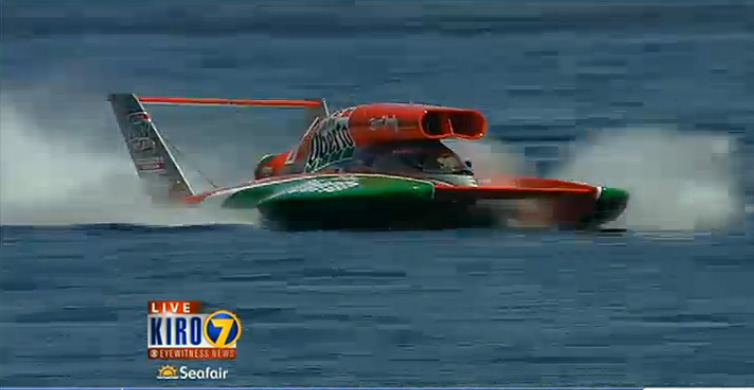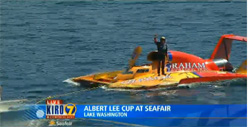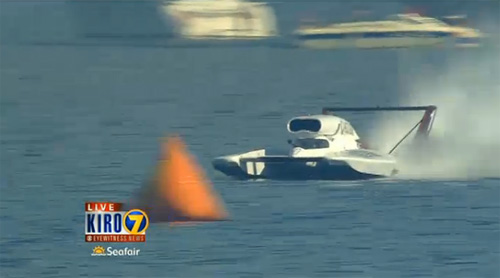 SEATTLE 2012: Unlimited Hydroplane Racing at Seafair

More>>

Sunday, August 5 2012 6:29 PM EDT

2012-08-05 22:29:10 GMT

David, Villwock, Shane, Kelly win heat races in Seafair in the race for the Albert Lee Cup

More >>

UPDATED


Heat Winners:



1A 6 Steve David
1B 1 Dave Villwock
2A 6 Steve David
2B 5 Jimmy Shane
3A 5 Jimmy Shane
3B 37 J. Michael Kelly



More >>

Saturday, August 4 2012 7:28 PM EDT

2012-08-04 23:28:36 GMT

Saturday Heat Winners:
1A Dave Villwock
1B Steve David

More >>

The race for the Albert Lee Cup in Seattle for H1 Unlimited Hydroplane racing.

Saturday Heat Winners:
1A 1 Spirit of Qatar - Dave Villwock
1B 6 Oh Boy! Oberto - Steve David

More >>
Seattle, WASH - A wild weekend of racing, including the winningest driver in hydroplane history, Dave Villwock, winning only one of three heat races. But that still put him in the finals along with other heat winners, Steve David, Jimmy Shane, and J. Michael Kelly. And since it's a winner-take-all deal, it was set up to be a tension-filled final as the boats came out for the Albert Lee Cup finals.
The race for the Albert Lee Cup:
You could feel the tension going into the finals. There was payback on the mind of more than a couple drivers and a real need to score points towards the National High Points Championship.
Coming up to the start line, it was Jimmy Shane in lane three grabbing the lead. Dave Villwock in lane three was pushing Shane, with Steve David in 3rd. David passed up Shane to take the lead in lane one.
After the first of the 5 lap final, David held first, Shane in second, and Villwock stayed in third. The boats started to separate a bit. In the corners, the leaders started to go wide a bit forcing those behind to go even wider - A perfectly legal move and it helped both David and Shane get some separation.
The 1 boat hasn't looked quite right all weekend and it showed up in the finals again, slowing as J. Michael Kelly started closing on Villwock. By lap four, Kelly managed to move past Villwock, and held it at the race to the finish. But hang on, there is talk of a penalty on the 37 for lane encroachment dropping Kelly from 3rd to 6th. Up, that's what happened. That moved Villwock up to third.
"Got run into and run over a couple of times," said Villwock on KIRO-TV reflecting on the day. "We'll be back."
"What this win does is guarantee that I'm going to be with this team for another year," said David at the awards ceremony. It was David's third straight Seafair win.
FINALS - WINNER TAKE ALL Order of Finish:
6 Oh Boy! Oberto - Steve David
5 Graham Trucking - Jimmy Shane
1 Spirit of Qatar 96 - Dave Villwock
21 Albert Lee - Brian Perkins
9 Sound Systems - Jon Zimmerman
88 Degree Men - Scott Liddycoat


STARTED AS TRAILER

37 Beacon Plumbing - J. Michael Kelly


ONE LAP PENALTY
SUNDAY HEAT RACES
Heat 2A
Steve David in the U-6 Oh Boy! Oberto had the salt water snorkel on the boat and was trolling up to the score up buoy. At the start, David was able to grab the lead going into the first turn and hold it end-to-end. Whatever the 9 crew is doing, that old boat has some real speed, challenging the 6 for most of the heat and actually pulling in front for just a quick moment. But David put the pedal down and ran away with the race.
JW Myers in the 11 got washed down going into the first turn and had too much ground to make up after re-starting.
Not a fan of the trolling starts, where boats slow down and park it in a lane before the score up buoy, David was quoted by Hydro-News as saying "These starts suck."
Order of Finish - Heat 2A:
6 Oh Boy! Oberto Steve David
9 Seattle Suntan presents Sound Propeller Services Jon Zimmerman
100 Miss Fox Plumbing Greg Hopp
17 Miss Red Dot Jeff Bernard
57 Miss DiJulio Mark Evans
11 Acura of Bellevue presents Miss Peters & May JW Myers
Heat 2B
Brian Perkins timed it perfectly in lane four and hit the start line first. J. Michael Kelly was in lane one in second place. Dave Villwock was late to the start and trailing in fourth place in lane three.
"I couldn't see where I was going," said Dave Villwock on KIRO-TV, "and I didn't want to run into anybody so I had to wait for the windshield to clear."
Meanwhile, Jimmy Shane ran to the lead passing up the field. Kelly was only back by a couple of boat lengths in lap two and Villwock was closing the gap on both of them. In the final lap, Villwock passed up Kelly, but Kelly closed the gap to come off the final turn side-by-side. At the finish, Villwock nipped Kelly to take second.
Villwock ran the final lap in competition at more than 152 miles an hour!
After the race, Shane's turbine wouldn't shut off. He had to pop the cockpit lid, stand up and use the manual shut-off on the outside of the cockpit. The boat had to be towed back to the pits.
Order of Finish - Heat 2B
5 Graham Trucking Jimmy Shane
1 Spirit of Qatar 96 Dave Villwock
37 Beacon Plumbing J. Michael Kelly
21 Miss Albert Lee Appliance Brian Perkins
99 Miss Fox Plumbing Too Ryan Mallow
DNS. 88 Degree Men Scott Liddycoat
Heat 3A
Dave Villwock and Steve David met in a heat race for the first time this weekend in Seattle. JW Myers in the 11 grabbed lane one at the score up buoy, David in lane two and Villwock in lane three.
David was first across the line with Villwock just two boats back. "It was a mess," Villwock told KIRO-TV. He said someone ran into him and he slowed.
David was the first to turn left out of the turn and the question was could he hold off Villwock. Myers was in third. At the end of lap one, David had a half roostertail lead and he was flying the boat. By the backstretch of the second lap, it was nearly a full roostertail lead.
Zimmerman and Myers were battling for fourth place. It was very - very - close at the finish line.
David said Myers ran into him prior to the start. "Not his fault," he said. A little bit of damage to the 6 boat on the left sponson, but didn't appear to be anything significant. Officials originally called a penalty on Villwock as they thought he caused the damage.
---
UPDATE: Well after the race finished, officials were still sorting it out. We heard first about a possible penalty against the 1, but officials weren't ready to make it official. Then word came there was a one-minute penalty against both Villwock and David. Since they finished one-two in the heat on the water, that would have a huge impact on the order of finish. It did. It moved David from first to 5th; Villwock from 2nd to 6th.
---
Order of Finish - Heat 3A
5 Jimmy Shane
9 Jon Zimmerman
11 JW Myers
100 Greg Hopp
6 Steve David - ONE MINUTE PENALTY
1 Dave Villwock - ONE MINUTE PENALTY
Heat 3B
J. Michael Kelly grabbed lane one with Brian Perkins in lane two. Kelly took the lead into the first turn and out of the first turn. The boat was wobbling on the water, bouncing high a couple of times, but he was able to keep it rightside up.
Meanwhile, the 99 boat went dead. It's been having mechanical issues all weekend. Scott Liddycoat passed up Perkins to grab second place. The 17 Red Dot continues to struggle as well. Mark Evans was trying to reel in the 17 for fourth place.
Kelly lengthened it out to a full two roostertail lead on the final lap. There was a one lap penalty on Scott Liddycoat, which pushed the 88 from second to last place.
"Got the inside lane, which is huge," said Kelly on KIRO-TV. "If I get out front, I want to win... if you don't want to win, you don't deserve to be out there."
Order of Finish - Heat 3B
37 J. Michael Kelly
21 Brian Perkins
57 Mark Evans
17 Jeff Bernard
88 Scott Liddycoat - ONE LAP PENALTY
DNF. 99 Ryan Mallow
Provisional Heat
The winner of the provisional heat gets to be the trailer boat in the finals and a chance to pick up points towards the national high points season championship. Greg Hopp was trying to take advantage, hitting the start line first and heading towards the first turn.
Hopp and JW Myers in the 11 stayed close, but Hopp kept the lead. At the end of the first lap, Scott Liddycoat had reeled in Myers. With the cleaner water out front, Hopp ran a 141 mph lap and kept it out in front. But hang on a second!
Liddycoat charged hard and was now within a boat length going into the final turn of the final lap. Wow! Coming out of the final turn, Liddycoat hammered it and at the finish....it was the 88 nosing out Greg Hopp in the 100.
"Not the one we wanted to win," Liddycoat told KIRO-TV," but we're in (the final)." Talk about a fast lap. Liddycoat turned a 144 mph in the final lap around the course.
Order of Finish - Provisional Heat
100 Greg Hopp
88 Scott Liddycoat
57 Mark Evans
11 JW Myers
17 Jeff Bernard
Saturday Heat Races
Heat 1A
Ryan Mallow in the 99 boat went dead in turn 1 and some of the other drivers had to stop. The black flag came out and stopped the heat. So... Heat 1B was run first.
Heat 1B
Right before the race, the 1 Spirit of Qatar 96 crew was thrashing in the pits, but it didn't seem to make a big difference as Dave Villwock grabbed lane one and ran to victory. Jimmy Shane was in lane two and held his own for the first lap, but Villwock started to pull away.
Lots of confusion in the heat as the start was under review by officials. It was a three lap race, but no checkered flags came out and the boats kept running.
Heat 1B Results

1 Spirit of Qatar 96 - Dave Villwock
5 Graham Trucking - Jimmy Shane
88 Degree Men - Scott Liddycoat
100 Fox Plumbing - Greg Hopp
11 - Peters & May - JW Myers
17 Red Dot - Nate Brown


ONE LAP PENALTY - JUMPED THE GUN
Heat 1A Re-Start
Then it was back to Heat 1A. Steve David grabbed the lead with J. Michael Kelly giving chase in the 37 Beacon Plumbing and Jon Zimmerman in the 9 Seattle Suntan in third. David started in lane three, but it didn't stop him from hitting the turn first, and leading the boats out of the turn onto the backstretch.
The 9 crew had that boat in great shape for the weekend after a strong run in the Tri-Cities. And Jon Zimmerman made the most of it, passing up J. Michael Kelly in the 37 by a couple of boat lengths and grab second place.
Heat 1A Order of Finish:
6 Oh Boy! Oberto - Steve David
9 Seattle Suntan - Jon Zimmerman
37 Beacon Plumbing - J. Michael Kelly
57 Miss DiJulio - Mark Evans
21 Albert Lee Appliance - Brian Perkins

DNS. 99 Fox Plumbing Too - Ryan Mallow