Auditors preparing for Primary Elections Tuesday
Posted:
Updated: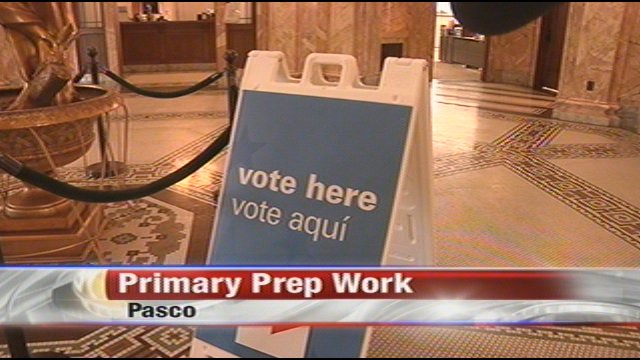 PASCO, Wash. -- Auditors all across Washington are gearing up for the state's primary elections Tuesday. Ballots are due at the designated drop off locations by 8:00 PM, and must be post-marked by Tuesday.
Franklin County Auditor Matt Beaton says right now they have about 15-percent of the ballots turned . Beaton also says he doesn't expect the Franklin County Commissioner race to increase voter turnout. "The traditional number for a primary is right around 40%, and that's right now what we're expecting. We're hoping for higher," he says.
The voting and tallying done at the election center can be seen through the newly installed web cam. To see the schedule click here. https://wei.sos.wa.gov/county/franklin/en/Elections/CurrentElection/Pages/ElectionWebcam.aspx
Beaton and Benton County Auditor Brenda Chilton will also announce the results turned in by 8:00 PM at both elections centers.
Results are especially important for the numerous Franklin County Commissioner candidates which will narrow it down to two candidates for November.
Incumbent District One Commissioner Brad Peck is running against Mark Faith and Rosie Rumsey.
Incumbent District Two Commissioner Bob Koch is running against three others, Al Yenney, Patrick Barnett, and Lee Barrow.
For more information on the state races, click go to Secretary of State Website: http://www.sos.wa.gov/elections/CampaignFinanceInformation.aspx
Franklin County: https://wei.sos.wa.gov/county/franklin/en/elections/pages/default.aspx
Benton County : http://www.bentonauditor.com/Auditor.html