Paraplegic Richland man to attempt Golden Gate Bridge swim
Posted:
Updated: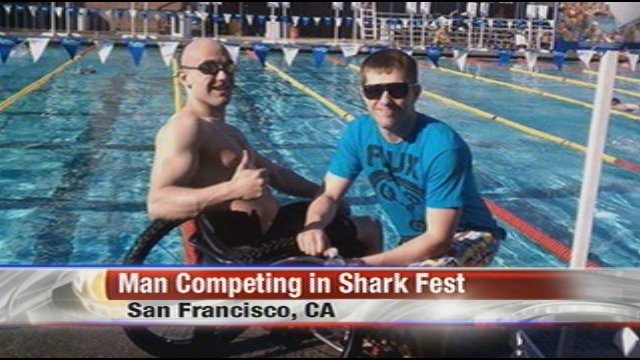 SAN FRANCISCO, Calif. - Nate Higgins, a 27 year old paraplegic swimmer, will attempt to swim 1.6 miles in the frigid waters spanning the Golden Gate Bridge, without a wet suit Saturday August 11th. As part of the Shark Fest Swim series, this possibly makes him the first person with his disability to ever to do so. The epic swim is meant to fund raise and gain exposure for the Swim With Mike Foundation. Swim With Mike provides financial resources for higher education that paves the way for physically challenged athletes to overcome their tragedies and realize their full potential.
Nate suffered a work related accident in July of 2004 immediately after graduating from high school. Leaving him paralyzed from the chest down. In high school Nate was the captain of his high school wrestling and cross country teams, and tried anything he could apply his competitive spirit to. After the accident he spent over a year in rehabilitation struggling to come to terms with his new life and what he thought were his limits. He would soon discover a new passion when he was introduced to swimming as part of his rehabilitation. Swimming would lead him to the non-profit organization Swim With Mike and a scholarship that would empower him not only to continue pursuing his education, but to become truly limitless.
Since his accident in July 2004, Nate has completed several daring open water swims without a wet suit including: Alcatraz, the Columbia River, Lake Pend Oreille in Idaho and Lake Sammamish in Washington. Nate also represented the United States at the Para Pan American Games in Guadalajara, Mexico this last fall. This will be his most difficult challenge yet.
Today Nate works as a research associate for Glacier Peak Capital Management in Bellevue, Washington.