"We Want You Back" Campaign to turn around high school dropouts
Posted:
Updated:
Claire Graham, KHQ Local News Anchor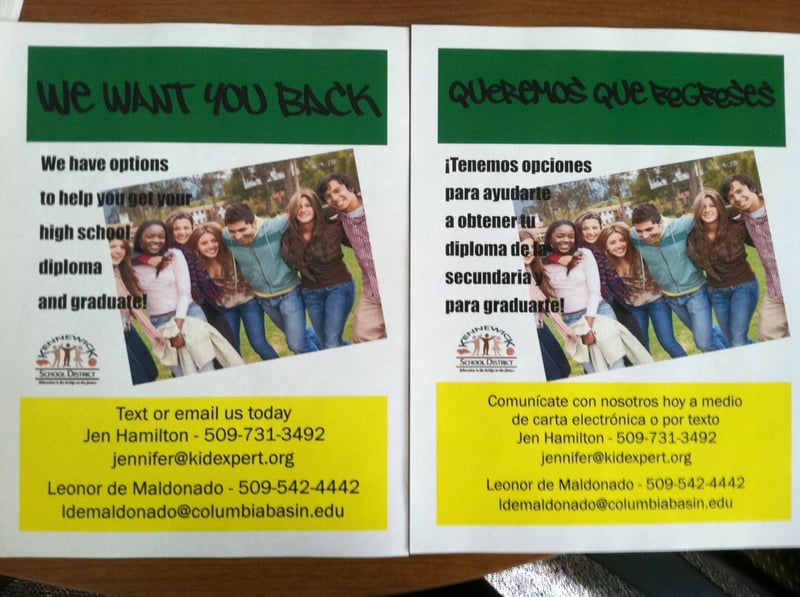 KENNEWICK, Wash. - Administrators at the Kennewick School District are launching their first ever "We Want You Back" Campaign.
Saturday, August 11th, KDS administrators and community volunteers will visit the homes of more than 50 students who have dropped out of high school.
They plan to give out fliers and talk with students and their families to express the importance of having a high school diploma. The School District is also promoting a program with Columbia Basin College where students can earn their high school diplomas if they don't want to go back to their actual high school -- and it's not a GED, it's an actual diploma.
Lorraine Cooper, the Director of Communications and Public Relations for the Kennewick School district says, "it's not always about having people come to us, we have to go to them and in this case, we feel it's very important that we go to them to show them that we care, and not just be here and expect them to arrive at our door."
If you'd like to help get high school drop outs back in the classroom, KSD is looking for volunteers. On Saturday volunteers will get pamphlets, fliers, information and instructions, and then go door to door in groups of three or four.
Just sign up before noon on Friday, August 10th, by contacting Lorraine Cooper at:
Lorraine.Cooper@ksd.org
or 222-7724.