Walla Walla Coroner's Inquest
Posted:
Updated: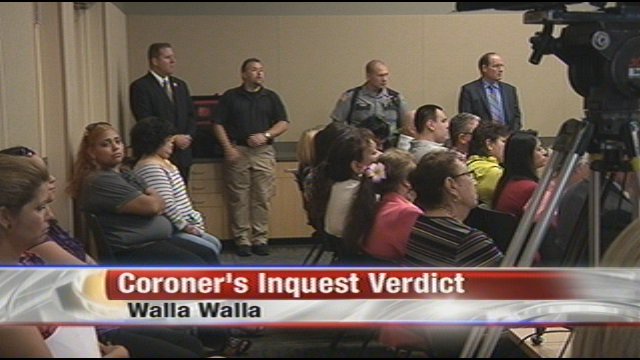 WALLA WALLA, Wash. - A jury is split 3-3 on whether the shooting death of 22 year old Cesar Chavira was a "justifiable homicide." Dan Blasdel has ordered a recess until Friday 9:00am. The jury's decision doesn't have to be unanimous but there does need to a majority.

This means 63 year old John Saul could face any criminal charges stemming from the May 4 shooting which took place inside his store, New York Western Outfitters where he works and lives.

If the shooting is considered not justified, the results will be forwarded to the Walla Walla County Prosecutor who could press charges against Saul. However, the results of an inquest are not legally binding.

Five shells from a 1946 Winchester Model 12 shotgun were found outside the store door. Sgt. Gary Bolster, a firearms expert and detective for Walla Walla Sheriff's Office testified that he believes the shots were fired from inside the store, near the entrance, pointing outside the broken glass door.

Bolster also said he believes all five rounds were fired in a row, with no breaks in between and he says all five rounds managed to hit Chavira with pellets to some extent. Bolster says the first shot was from at least 120 feet away.

Earlier Thursday morning jurors and family and friends of both Chavira and Saul looked at graphic autopsy photos which showed significant pellet wounds to Chavira's back. His mother closed her eyes during that part of the testimony.


During the inquest Bolster was also asked about criminal records of both men involved. He says Saul has no criminal history while Chavira, a known gang member has been arrested 19 times since 2004. He has six felony convictions including theft and assault. He also has seven gross misdemeanors on file. However he was not armed the night he was shot and killed.