Tri-City rebounds to take game two against Eugene
Posted:
Updated: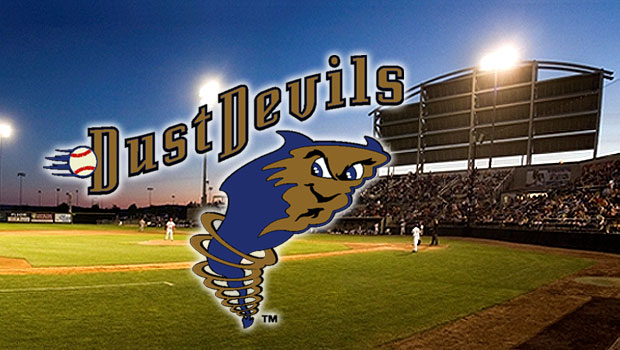 By Eugene Emeralds
EUGENE, Ore. -- After trouncing Tri-City Saturday night, the Dust Devils came out of the gates swinging Sunday afternoon. Kyle Von Tungeln was hit by a pitch to start the game, and Tri-City followed by lacing three singles to tally the first run of the game.
In the 2nd, Tri-City added two more runs after Ems starter Juan Marcano gave the Dust Devils two base runners by walking Zach Osborne and not covering first on a grounder from Von Tungeln. They were able to cash in with a single and a sac fly to make the score 3-0.
Francisco Sosa started the 3rd inning with a double and came around to score on a Miguel De Leon single giving Tri-City a four run lead. Eugene would start to chip away in the bottom of the 3rd. Back-to-back singles to start the inning led to a Clark Murphy RBI on a groundout.
In the 4th, Dane Phillips wound up on third base with none out after Francisco Sosa misplayed a fly ball in left. Jonathan Roof brought him in with an RBI single to make it 4-2. The Ems still had two on with one out for Jeremy Baltz. Baltz hit a grounder to third which wound up a 5-3-5 double play when Mallex Smith violated a cardinal rule by getting thrown out at third for the final out of the inning.
Phillips crushed a solo homer in the 6th inning off of Ryan Arrowood to make the score 4-3. Phillips now leads the Emeralds with four homers this season. Matt Chabot came out to pitch the 7th inning and got the first two batters. Then a double from Tom Murphy and an RBI single from Francisco Sosa made the score 5-3. Eugene would get just two base runners in the final three innings but could do nothing against the Dust Devil bullpen.
Ryan Arrowood picked up the win going four innings allowing just two hits and striking out 5. Seth Willoughby picked up his 5th save by retiring the side in order to end the ballgame.
The Ems and Dust Devils will be back at it Monday night for game 3 of this 5 game series. First pitch is scheduled for 7:05pm, you can listen live to Matt Dompe on 95.3 the Score.