Dust Devils lose to Emeralds, 5-3
Posted:
Updated: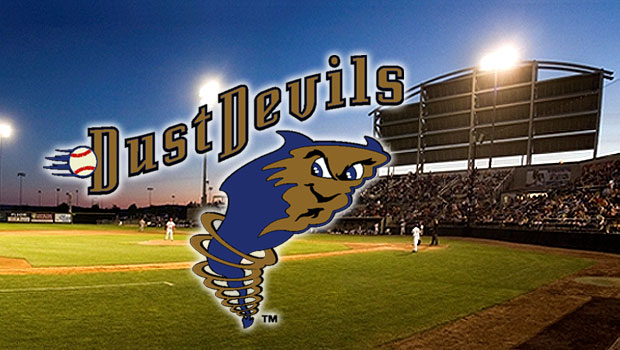 By Eugene Emeralds
Tri-City scored off of Justin Hancock in the first inning when Francisco Sosa delivered a two out single bringing home Rossel Herrera. With the Dust Devils leading 1-0, the Emeralds used a two-out rally to tie it up in the bottom of the 1st. Jeremy Baltz doubled and then Maxx Tissenbaum drove him in with a line drive that tipped off the glove of third baseman Alec Mehrten. Tri-City starting pitcher TJ Oakes was injured on the delivery and had to leave making it a bullpen game for the Dust Devils.
In the bottom of the 2nd, Eugene got back-to-back singles to start the inning. Stephen Carmon drove in Clark Murphy with a single to right field and the Emeralds led 2-1. In the third inning, Eugene used a pair of walks to setup a Gabriel Quintana sacrifice fly and the Ems took a 3-1 lead. Hancock gave up a run in the 4th after he hit batters on consecutive pitches and surrendered a sac fly to Alec Mehrten making the score 3-2. Hancock finished 5.1 innings of work allowing those two runs on six hits while fanning five Dust Devils.
Emeralds catcher Dane Phillips added some breathing room with a two-run single in the bottom of the 5th making it 5-2. Phillips has now taken over the team lead in runs batted in with 29. Tony Wieber came on to retire the last two hitters of the 6th after Hancock gave up a one-out double.
Lefty Chris Nunn has been lights out for the Ems this year, but he proved himself to be human after allowing his first run of the year in the 8th. He would be lifted with two on and two down for closer Roman Madrid. Madrid induced a groundout to finish the 8th then came back getting a couple of strikeouts in a perfect 9th inning.
Justin Hancock moved his record to 5-2 and Madrid picked up his 11th save. Eugene took four of five over Tri-City and will face off with the Dust Devils for five more games at Gesa Stadium coming up August 22-26.