Exceptional Rodeo for Exceptional People with Special Needs
Posted:
Updated: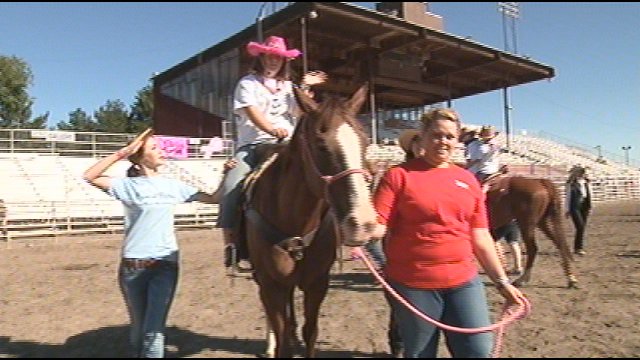 KENNEWICK, Wash.- Bright smiles and laughter filled the Benton County Fairgrounds arena Friday morning.
More than 100 volunteers and the Rascal Rodeo Organization held a special kind of rodeo, the kind only for the exceptional.
Participants from 2 to 51 years old were given the opportunity to be real life cowboys and cowgirls.
Rascal Rodeo founder, Ann-Erica Whitemarsh says, "I realized people with special needs were awesome and could teach us so much. They don't see people's flaws. They don't judge anybody. And they are the most loving and kind people that I know."
Whitemarsh started the Rascal Rodeo more than a decade ago as a senior class project.
5-year old Logan Ellingsworth is just one of the exceptional 70 participants in the Rascal Rodeo.
Logan's grandmother, Brenda Ellingsworth says he was born with cerebral palsy and meth addicted.
However, Logan calls Brenda and her husband, Mom and Dad.
Ellingsworth says Logan just had surgery 4 months and doctors told her they were unsure but hopeful he would be able to walk again.
She says, "Before that he couldn't sit up and couldn't walk except on his tippy toes with assistance. Now it's been 4 months, and he's walking flat footed, sitting, and climbing walls. He's doing all kinds of things. It's so awesome."
Rascal Rodeo volunteer, Ryan Sorensen says Logan now has a special place in his heart.
Sorensen says, "We ditched the walker. I've been holding his hand and walking the entire time with him. It's incredible. I had no idea that 4 months ago he wasn't walking."
And for returning Rascal Rodeo participant, 15-year old Sammy Garcia, her dad, Dan says, "she loves this day. She gets to be a rodeo princess for a day. Basically she loves seeing all the rodeo princesses's and queens. This is her day to shine and be that rodeo princess."