Chimpanzee Sanctuary saved from fire
Posted:
Updated: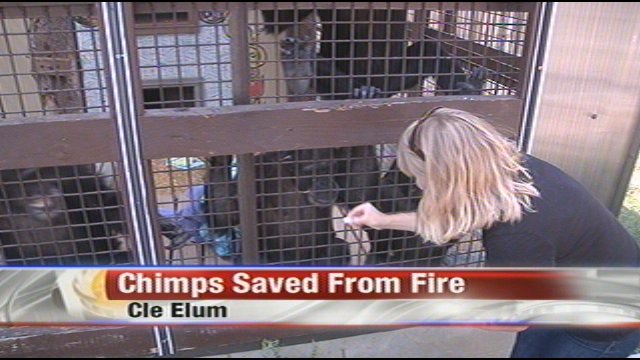 Cle Elum, WASH.--Diana Goodrich and her husband were two of the first people affected by the Taylor Bridge Fire, and they didn't only have to worry about their safety. They have seven chimpanzees living on their property.
"Once we saw the flames under the bridge he realized right away what a big problem that was going to be," said Goodrich. "So he called the staff who were working here and had them start our emergency procedures."
The chimps were quickly brought indoors, and all windows and doors were shut.
"They went in right away that wasn't a big issue," said Goodrich."I think they didn't know what was going on and mostly they were really quiet, which is kind of unusual for chimps. They're generally loud and boisterous animals especially when there's a threat to them."

The fire raged around the sanctuary, but firefighters were able to keep it away from buildings. Some fences were damaged and need to be repaired before the chimps can use the outside enclosure. Goodrich said she's grateful no one was injured and there wasn't any severe damage. She said all of the chimpanzees have had a rough life, and they deserve some peace.
"Many of them were used in breeding, the females," said Goodrich. "So Jodi, for example had nine babies and they were all taken from her within hours of birth. So they had a really hard life and this is just kind of their second chance now."
All seven chimpanzees came from Pennsylvania where they were used for biomedical testing.
Goodrich said the facilities comfortably fit seven, but if the opportunity came up to save more chimpanzees, she would.