Fire escapes burn pit and grows to 700 acres
Posted:
Updated: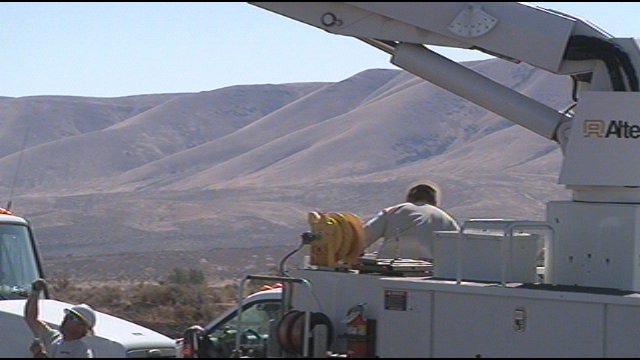 White Swan, WASH.--Eight fire departments responded to a grass fire at 2000 Fort Simcoe Road in White Swan Sunday, after a controlled burn quickly grew out of control.
The fire spread from a burn pit at the King Mountain Cigarette facility and burned around 700 acres.
Firefighters said this isn't the first time King Mountain's pit has started a massive fire.
"I know there was pallets in there, some metal and stuff in there so I'm not sure what all they burn," said Deputy Chief Kevin Frazier of Yakima Country Fire District #5. "It isn't a big pit. They are taking some of the precautions, but the wind just really blows out there and it just swirls into that pit and throws it up over the berm."
White Swan resident Willie Maedonez said, "I think they should be more cautious and have a fire hose or just not even burn all together."
The fire jumped Fort Simcoe Road and was headed right for some homes. Fire crews concentrated on protecting the houses, while trying to stay in front of the fire.
"The units were spread out," said Frazier. "They're protecting the houses, and we had a spot fire happen behind one of the houses in the grass. Even sitting their watching it, it doesn't take long for it to take off to 20 or 30 acres, and once again you're just chasing it."
"The smoke was over our house and saw nothing but smoke," said Joel Arroyo. "It got so bad that when you smelled it, it was hurting your eyes."
Firefighters battled the fire for nearly eight hours. It was fully contained around 8 p.m. Sunday.
Two outbuildings and an abandoned home were lost in the fire.
Yakama Nation Tribal Police are handling the investigation and will decide what charges the King Mountain Cigarette Company may face.