Nation's top rodeo competitor wins twice at Pendleton Round-Up on day 1
Posted:
Updated: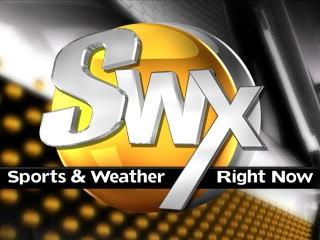 By Randy Thomas
Pendleton, Oregon, Sept. 12--Rodeo's top competitor excelled Wednesday at one of the West's greatest rodeos, the 102-year-old Pendleton Round-Up. Trevor Brazile, Decatur, TX, who last year beat his own record with his 9th All-around national championship in rodeo, took first in two of the Round-Up's eight events as Pendleton began celebrating the four-day annual event.
The Round-Up continues through Saturday's finals competition.
Brazile, 35, who has won more times and more money, $4.3 million to date, than any rodeo competitor in history, will continue to compete through Saturday for the roping and All-around titles. To date this year he has won at 35 rodeos. In his team roping event Wednesday, he was accompanied by heeler Patrick Smith, Midland TX. The two won with a time of 5.4 seconds.
In team roping the header, Brazile, has to first rope the steer's horns, then the heeler, Smith, ropes both hind heels and both hold the steer to complete the timed trial. Smith, 32, has $1.2 million in winnings since joining the Professional Rodeo Cowboys Assn. (PRCA) and two world titles. He was the PRCA heeler of the year in 2003.
In that most emblematic of rodeo events, certainly the emblem of the Pendleton Round-Up, saddle bronc riding, first on Wednesday went to Bradley Harter, Weatherford, TX, with a score of 86. Harter, 30, has won $896,379 in his professional rodeo career and was 4th at the Wrangler National Finals Rodeo (WNFR) in Las Vegas last year. He said it's still a dream of his to win at the Pendleton Round-Up.
"When I write down my goals for the year there's always included winning at the Pendleton Round-Up," said Harter after his first place ride. "This rodeo is kind of the wild west, looking at the heritage of it. I've been hearing about this rodeo for generations. I want to win here so I can tell the grandkids about being here and winning," he added.
In the scored events, such as saddle bronc riding, half the score is due to the horse's performance. Harter praised his partner. "It was a horse from Canada, a really nice one that I've heard a lot about. I hadn't seen him before but when you get on a bucking horse that's what you want, one that puts head down and stays close."
Harter noted that in 2006 he missed first at the Pendleton Round-Up by one point. "But I've come to win it. I'd love to make that victory lap."
Behind Harter in second and third places were the Wright brothers, Jesse, 23, in second, and Cody, 35, in third. They are two of six Wright brothers from Milford, UT, who compete in rodeo. Cody, the oldest, has $1.8 million in winnings since joining the PRCA in 1998. He has won eight rodeos this year. Jesse joined the PRCA in 2008 and has $448,165 in winnings, half of it last year when he took first at the WNFR.
In other judged events, Justin McDaniel, Porum, OK, got the best score in the bareback riding event with 83. However, the 25-year-old was tied by JR Vezain, Cowley, WY, and Winn Ratliff, Leesville, LA. Vezain, 20, has won seven rodeos in 2012, won the National High School Finals Rodeo bareback championship in 2009 and the College NFR All-around championship last year. Ratliff, 23, has won nine rodeos this year.
In the final judged event, bull riding, first went to Brant Atwood, Ft. Worth, TX, with a score of 85. In second, with 84, was a regional favorite, Shane Proctor, Grand Coulee, WA, 84. The 27-year-old Proctor won the 2011 world title in bull riding and has $326,595 in earnings in his career.
Behind Proctor was J.W. Harris, Mullin, TX, 83. Harris, 26, with $1.2 million in winnings since joining the PRCA in 2005, won three world titles in a row, 2008-10, dropping to second in 2011. He has won 9 rodeos in 2012. Harris claims to be only the second world champion bull rider to begin wearing a helmet, after he suffered five concussions in 2008.
In the only event where the cowboy deliberately flies from his horse to land on a cow, steer wrestling, Billy Bugenig, Ferndale, CA, won with a time of 5.6 seconds. He was followed by Dakota W. Eldridge, Elko, NV, 6.1 seconds, and Sterling Lambert, Quincy, CA, 6.4. Bugenig, 31 has won $433,862 since he joined the PRCA in 2003 and won three rodeos this year. His dad was a bareback rider.
In the final men's timed event, steer roping, first went to Brian Garr, Belle Fourche, SD, with a time of 14.4 seconds. He was followed by Worm Shipley, Copan, OK, 14.7, and Dave Clark, Terrebonne, OR, 14.8.
In the only women's event at the Round-Up, barrel racing, where women race around three barrels set up in a triangular course, Kim Schulze, Elbert, CO, won first place with a time of 28.77 seconds, followed by Lindsay Sears, Nanton, AB, 29.14, and Nikki Steffes, Vale, SD, 29.47. Schulze is currently ranked 25th in the Women's Professional Rodeo Assn. (WPRA). She has been riding a horse she received from 4X world champ Kristie Peterson, a neighbor at the time. Sears is currently ranked second in the WPRA, with winnings this year of $122,707.