Young bull rider loses by a nose (his) but wins the biggest victory of his life
Posted:
Updated: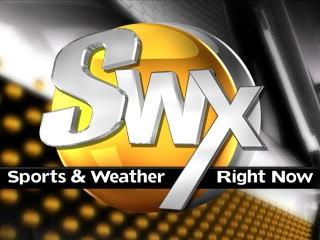 By Randy Thomas
Pendleton, Oregon, Sept. 13--The highlight of the second day of the 102nd Pendleton Round-Up was the astounding 92 point winning performance by bull rider Parker Breding, Edgar, MT, aboard bull Tight Rope. (We have to give Tight Rope credit since his performance contributed to the high score.) Especially noteworthy was that Parker's father, Scott Breding, won the Round-Up's bull riding title in 1996 and Parker's hoping dad will show up for the short round on Saturday, final day of the annual rodeo. That might offset the pain and the concern about looking ugly that started when Tight Rope threw Parker into the chute as he tried to bail, smashing his nose (the rider's not the bull's).
"That bull was spinning real fast and when I turned to go I was facing the crowd but he was spinning so fast that by the time I was ready to go he swung me into the chutes and I went off nose first and broke my nose. I've broken it quite a few times before but this one is definitely the worse. I hope I can get if fixed or I'll just be ugly or something," Parker commented nonchalantly.
Parker's career is just beginning. He rode once in 2010 and didn't qualify (stay on the bull 8 seconds). He qualified for 3 of 11 in 2011 but this is his year, with 12 of 47, not a bad percentage for bull riders. According to ProBullStats.com he exceeded 85 points twice in 59 attempts and never topped 90 before today's ride at the Pendleton Round-Up.
He's serious about wanting to emulate his dad, Scott.
"He won Pendleton before," said Parker. "It's hard to live up to what he did. I had 89 once, 92 at a small rodeo in Montana. I know how hard it is to win these big rodeos, now that I've been to a few of them. I want to be just like him every step of the way. I just want to be as good a person as he was. I don't know anyone better. If I can do anything close to what he does it will be amazing."
Commenting on Tight Rope, Parker said, "That bull bucked me off a couple of weeks ago and it felt really good to ride him here.
"He's got kind of a trick. I was riding him good when I first rode him, then he started to tuck back a little bit and I ended up bucked off. Today I knew that was coming so I kept my feet down and that really helped me out."
As for the bull he hopes to ride on Saturday? "Anything's good with me I'm just glad to be in the short round. There's quite a few good bulls in there"
The Pendleton Round-Up continues Friday and Saturday at 1pm. For details, check out pendletonroundup.com.
The Round-Up runs eight rodeo events, three judged and five timed.
In one of those timed events, the difficult team-roping event, where the "header" ropes a running steer's horns and the "heeler' then ropes the steer's hind hooves, first place on Friday went to the team of Jess Tierney, Hermosa, SD, and local favorite, Shane Crossly, Hermiston, OR with a time of 6.3 seconds. The second and third place finishers were one-tenth of a second apart. Northwesterners Matt Meyer, Grandview, WA, and Sean Santucci, Prineville, OR, finished in 7.0 seconds while Colby Lovell, Madisonville, TX, and Russell Cardoza, Terrebonne, OR, came in at 7.1. Tierney, 30, who has won nine rodeos this year, is the son of Paul Tierney, a member of the Rodeo Hall of Fame.
The top three places in Thursday's running of the tie-down roping event were Shane Erickson, Terrebonne, OR, first with 10.8 seconds, Worm Shipley, Copan, OK, 12.0, and J.C. Crowley, Poplar, MT, 12.3.
In the bareback event, Cody DeeMrs took first with a judged score of 83. DeeMrs, 33, Kimberly, ID, has won just short of $1 million since entering the Professional Rodeo Cowboys Assn. (PRCA) in 1999 and was 7th in world standings last year for bareback. He previous won at the Pendleton Round-Up, tying for the average in 2005. Behind him was Seth Hardwick, Laramie, WY, 23, with 76. Tied for third with 74 were Casey Colette, Pueblo, CO, Hardwick's traveling companion, and RC Landingham of Pendleton, a 22-year-old who began competing in PRCA events in 2009 and who won the California High School bareback championship in 2005.
Steer wrestler Blake Knowles, a local favorite from nearby Heppner whose brothers Brian and Butch also compete professionally and are entered in the Round-Up this year, nearly won this event with a best time of 3.9 seconds but he broke the timer barrier early, resulting in a ten second penalty and a time of 13.9. So, ahead of him were Riley York, Loyalton, CA, 5.5, Joe Buffington, Wheatland, WY, 8.5, and Tony Currin, Dayton, WA, 9.5. In steer wrestling, a timed event, a steer runs down a ramp and into the field pursued by the steer wrestler and a second cowboy, the hazer, who keeps the steer moving more or less straight. The steer wrestler leans over in the saddle and leaps onto the steer, wrestling it to the ground.
Barrel racing, a trip around a triangular course marked by three barrels is a particular challenge in Pendleton because the course is longer than any other rodeo's and there's lots of slippery grass between the barrels. In Thursday's event Jody Sheffield, Ogden, UT , took first with a time of 29.02, Sally Williams, Skiatook, OK, came in just seven-100th of second later at 29.09, and Pamela Capper, Cheney, WA, finished third with 29.48. Capper is at #24 in the Women's Professional Rodeo Assn. standings with $36, 409 in winnings this year while Sheffield is at #33 with $30,734.
Finally, in the Round-Up's emblematic event, the saddle bronc riding competition, first on Thursday went to Cody Demoss, Heflin, LA with 87 in the judged event. The 31-year-old DeMoss, an old timer by rodeo standards, joined the PRCA in 2000 and has won $1.4 million since then. In 2006 he tied for the all-around title at the Pendleton Round-Up. He also competes in team roping as a heeler. In second was Chad Ferley, with 81. Ferley, 32, hails from Oelriches, SD, and has won $776,814 since joining the PRCA in 2001. Spencer Wright took third with 77. Spencer is one of five Milford, Utah Wright brothers entered in the Round-Up this year.