More than 90 wildfires continue to burn
Posted:
Updated: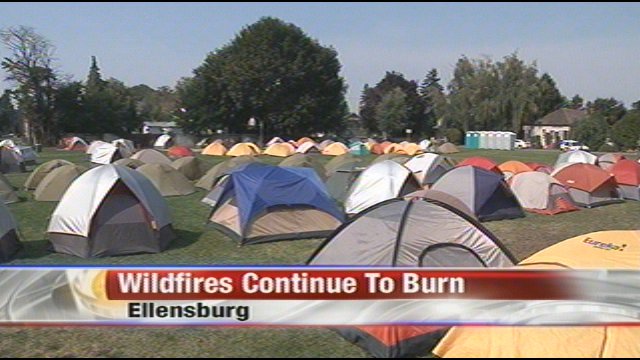 Ellensburg, WASH.--One week later, and over 900 firefighters are still battling around 90 wildfires in Yakima and Kittitas Counties that were sparked by lightning storms.
"We're still doing initial attacks as well," said Public Information Officer Sarah Foster. "New fires have been coming up every day, and we're prioritizing fires and moving resources where they need to be."
"You can't really see Mt. Ranier anymore," said T.J. McDonald. "It's just this fog, haze of dirty smoke."
Two fires are steadily growing, and more firefighters from out of state are being called in to help. The Table Mountain Fire is growing larger, and around 100 people have been evacuated from the town of Liberty. 200 others have been put on alert. Even though evacuations are underway, firefighters want to stress this is not a repeat of the Taylor Bridge Fire.
"It's nothing like Taylor Bridge," said Foster. "It's not a wind driven fire. This is a fire that's been steadily growing and doing what fire does. One tree catches the next tree on fire, that tree catches another one and it continues to grow."
The Wild Rose Fire near Rimrock Lake has grown to nearly 3,000 acres, and it's now reaching State Highway 12. Air quality is poor, and people are encouraged to limit strenuous outdoor activities.
Randy McPhee said, "I've got several friends that are on oxygen, and I'm hooked up with a caregiver and she has a couple clients that are on oxygen. They have to close their doors and windows and no air conditioner.
"My girlfriend works at a daycare with babies," said McDonald. "And with the fire and the air condition, they haven't been taking the babies outside."
Foster said, "We know there's a lot of people with a lot of nerves, but everything is going well and the firefighting resources are in place. We're continuing to work on these incidents to make sure that no homes are impacted. That's our goal."
Around 6,000 acres are burning, and firefighters said they are at 10 percent containment.
A state-wide burn ban has been issued by the governor. Firefighters said this is for good reason since conditions are one of the driest they've seen in years, and no rain is predicted until next week.