Hay Shortage affects Taylor Bridge Fire Victims
Posted:
Updated: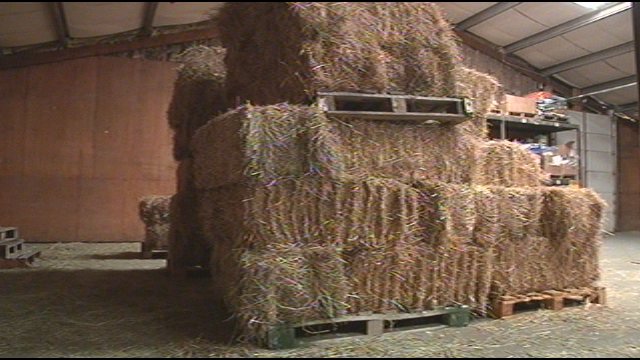 Ellensburg, WASH.--Some victims of the Taylor Bridge Fire last month near Cle Elum are still running into problems, and so are their animals. Donated hay supplies are almost dry.
Not only is there a widespread hay shortage this year, but a few people in Ellensburg were falsely claiming to be fire victims and took precious and limited resources.
Veterinarian Mark Kinsel, said, "People, I think are obviously concerned. It was already a short year for hay because of the drought nationally, and also the weather conditions in the valley have not been ideal for producing hay this year."
Over 30 families from the Taylor Bridge Fire depend on donated feed daily, and they need a lot of it.
"A year like this would probably be 2 ton of hay to get a horse through the winter so that's a fair amount of hay," said Kinsel. "We've processed probably about 50 ton of hay through this facility so far."
Hay is also becoming more and more expensive. Horse owners said the prices have recently doubled, and now 1 ton of hay can cost you $200. Some Taylor Bridge Fire victims not only lost their homes and grazing land, but also thousands of dollars in destroyed hay.
"The insurance companies will not replace that hay," said Cara Yost. "So if they had already laid in their hay for the winter to set themselves up, it's gone."
Fire victims in need of food or other materials for their animals can go to the Wilbur-Ellis Warehouse on South Wenas and Third Street in Ellensburg. There is an application process now since people were caught abusing the system.
Volunteers at the warehouse said hay shortage could be a big problem for a while. The heat from the fire could have damaged the roots underneath the ground, stunting hay's growth for years to come.