City of Hermiston trying to stop horse slaughterhouse from moving in
Posted:
Updated: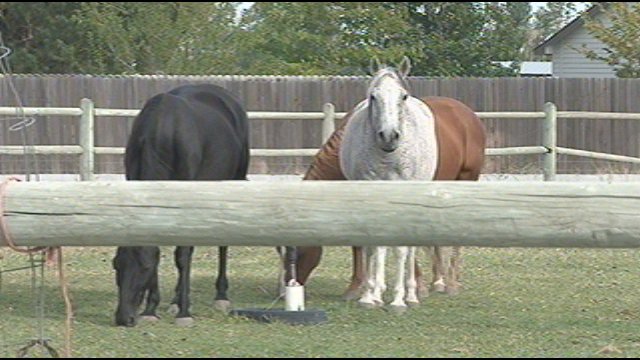 HERMISTON, Ore. -- In November, Congress quietly lifted a five year ban funding horse meat inspections. The original ban which was set in place in 2007 which resulted in all slaughterhouse facilities closing in the United States.
Dave Duquette, the President of Horses United in Hermiston says closing those facilities five years ago did more bad than good. Duquette says horse meat is consumed in 70% of the world. He says closing the facilities dropped the value of the animals, making them a liability instead of an asset. He said it also brought up animal abuse. "Neglect, abandonment and abuse cases have gone up 2,500% since the closing of the plants.and horses are being starved to death," he says.
Duquette also says many times people who have horses and have no way to get rid of them so they send them in trucks to Canada or Mexico to be slaughtered. He says the ride alone is cruel and difficult for the animals to handle.
For these reasons, Duquette is a big proponent of a new project in the works to put a horse slaughterhouse on land right outside of Hermiston. He says there are many tribes in the area currently suffering as a result of unwanted horses. He also says a California company, which cannot be named at this time purchased 252 acres of land in Umatilla County right next to the Generating Station off I-84 for this project.
But the City of Hermiston does not want the facility in their town. "We do not feel it would be an asset to our community, but a detriment," says Mayor Bob Severson.
Severson says the plant would hurt the city's "Livability." He says a plant would not only bring a wretched smell to their town, but it would be a health risk, and could bring back flies as well as put a bad stigma on their town. Severson says the 100 plus jobs estimated to be created are not worth it. "Is it going to be high end, or is it going to be low-end? I think what we want to do is to look at jobs that are high end that would increase our livability again," says Severson.
Umatilla County's Planning department will have the final vote on this since it is outside of Hermiston's city limits. Tamra Mabbott with the department says they have yet to receive any official plans.
In the meantime, the city has hired attorney from Perkins Coie who say the land is zoned for farm use only and not for this kind of facility. Mayor Severson also says the city does not plan on rezoning the land for such use.