Murder Suspect Avondre Graham Pleads 'Not Guilty' To All Charges
Posted:
Updated: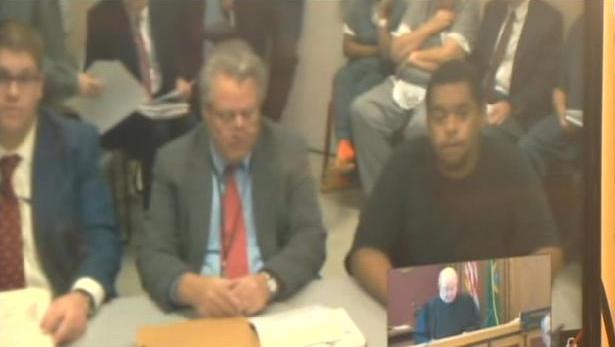 SPOKANE, Wash. – In his first court appearance charged with the murder of Sharlotte McGill, Avondre Graham, 17, pleaded not guilty to all four charges against him, including murder, robbery, assault, and attempted murder.
Though he appeared by video link from the jail, Graham spoke before a packed courtroom Thursday – a crowd that included at least four police officers, members of his own family, and Sharlotte McGill's daughter, Billie McKinney.
In the nearly five months since her mother's random stabbing death, McKinney has remained very private. In court Thursday, she sat quietly in the back row, surrounded by a friend and a court advocate. The advocate told KHQ, McKinney has a lot to say about the passing of her mother, but she's not ready to speak publicly quite yet.
But Graham's mother drew a little more attention in the front row of the courtroom, when she burst out in tears before the hearing even began.
Newly-released court documents show that after Graham was arrested for allegedly assaulting Debbie Watkins September 13th, Graham confessed to detectives that he did assault Watkins, and also that he killed McGill back on May 3rd. Police also believe he attacked a third woman, a Gonzaga University student, back in late August.
In court documents, detectives said Graham carried out a "common scheme in which he attacked white female victims on trails within close proximity to his residence."
Court documents also reveal that when a female police officer was booking Graham into the Juvenile Detention Center after his arrest, she asked him why he didn't do that to her. He replied "Cause you're a cop." When the officer asked, "So if I wasn't in this uniform things might be different?" Those documents show Graham got a smirk on his face and said "Yep."
Graham's trial is set to begin November 19th.