Selah students "Stomp-Out Bullying"
Posted:
Updated: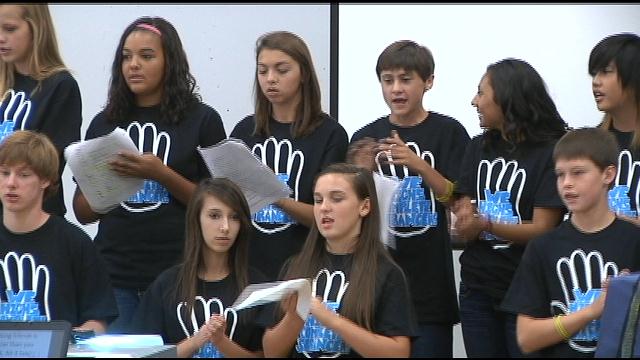 Selah, WASH.--Kids from Robert Lince Elementary School did their part to "stomp-out bullying" Monday.
It's part of a worldwide effort to raise awareness about bullies in school before it's too late.
Suzan Kelley, the school's guidance counselor said, "I lost a son to bullying so that's kind of why this is my baby, and I really will fight and do everything I can to not have that happen to another child."
"Don't bully, you don't know how bad it hurts," said student Lexie Garcia.
"It brought my confidence level down a lot," said Kaelan Nettleship, a victim of bullying.
Students, parents and teachers gathered in the gym to make a pledge that they won't exclude, tease or make fun of other classmates.
Kelley said it's important to teach this message at an early age.
"The things that you say to a kid, it can literally be the difference between life and death," said Kelley.
"Bullying it's harder when you get older, a lot harder," said Nettleship.
Cyber-bullying has taken off in recent years, and teachers said this doesn't just affect older kids. A site that was originally designed for safe social networking among children is now showing signs of bullying.
"There's a site called "Moshi" and it's similar to Facebook, but it's for kids," said Kelley. "It's starting to be an arena where they call names, start rumors."

No matter what form of bullying you may be dealing with, it's always best to tell someone.
Garcia said, "It just felt better to go tell a teacher or something. Then they knew and they stopped it, and it felt so much better."
There will an educational session for parents Monday night at 6:30 in Robert Lince's Library. Parents are invited to come and learn helpful tips about the signs of bullying and how to handle these situations.