Blue Mountain Wildlife to release Red Tailed Falcon
Posted:
Updated:
Claire Graham, KHQ Local News Anchor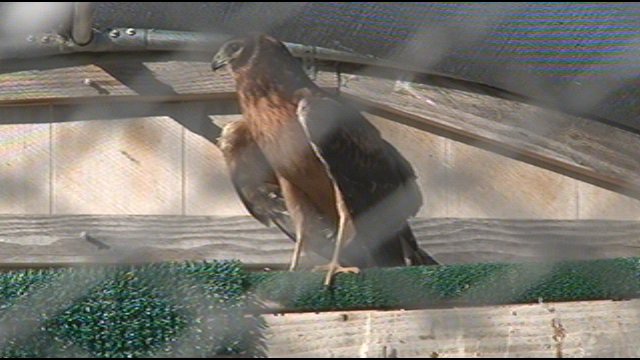 October 12, 2012 -
PENDLETON, Ore. - A long time non-profit animal rehabilitation center in Pendleton is getting ready to celebrate a success.
Lynn Tompkins and her husband Bob have run the Blue Mountain Wildlife Center for 25 years.
Lynn told us, "I used to be a vet tech, and that's how I got involved. I worked with a vet who did a lot of rehab. My husband and I started and just kept going."
With the help of local Veterinarians, they take in injured or sick animals, give them medical care, and help them recover. Over the years the center has seen several critters, but birds are the most popular patients.
Right now about 70 birds live here. 40 are permanent residents and 30 are under some kind of care. but so far this year, they've taken in 600 birds, and released 300 of them back into the wild. When re-releasing isn't an option, birds often move in; the live-in birds become educational tools.
The center often holds classes about nature and safe interactions. "Education is a huge part of what we do," Tompkins said, "probably the most important part actually, because even if we release every single bird that came in, that really wouldn't make a difference."
But the center has another mission. Immediate medical care isn't always an option. Last weekend, 5 bullets got a red tailed hawk was shot by 5 bullets, and com Monday, it was too late. That's why Lynn hopes to expand and add an on-site hospital.
"Surgery, lab, x-rays, everything will be contained, but we have to raise about a million dollars to do it. We're getting started, but we have a long ways to go." she said.
But even as the employees work toward that goal, Blue Mountain Wildlife continues to save lives.
This Saturday, is your chance to see a successful rehab it action. From 1 to 4, the center is hosting a free open house event. There will be a live band, a raffle and tours, but most importantly, a red tailed falcon will be released.
"I mean, where else are you going to have an opportunity to be an arms length from a bald eagle, you know? You should come. Do that, and watch the great gray owl fly." Lynn said.
The Blue Mountain Wildlife Center is located at 71299 Appaloosa Lane, Pendleton OR 97801. The phone number is (541) 278-0215.