UPDATE: Bloody hotel room leads to officer involved shooting
Posted:
Updated: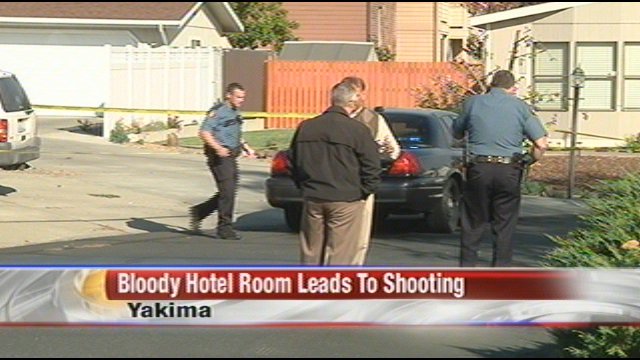 UPDATE:
Yakima, WASH.-- Yakima police continue to investigate an officer-involved shooting that happened Wednesday morning.
Neighbors said three shots were fired and then 55-year-old Joseph Ricard was dead. It all started when officers went to check on the man after receiving a phone call that he might have been in some sort of trouble.
Workers at a hotel in Eastern Lewis County called the Yakima County Sheriff's Office Wednesday morning after noticing a great deal of blood in Ricard's room.
Police said Ricard had a bandage on his left arm and could have been suicidal.
Lewis County Deputies said they're investigating it as a suspicious circumstance.
Two Yakima Police Officers went to Ricard's house on the 1000 block of North 34th Avenue around 10 a.m. Police said they found him in the backyard holding a gun.
Shots were fired by both an officer and the man. Then, police said Ricard turned the gun on himself.
Neighbors said they've only seen him in passing, but aren't surprised something like this happened in their neighborhood.
"I don't believe there's any neighborhood that's truly bulletproof. You're always going to have something happen in your neighborhood at some time," said Cheri Campbell, a woman who lives nearby.
Police said they got a search warrant, but didn't find anything suspicious.
The investigation is ongoing. No officers were hurt.
PREVIOUS REPORT:
YAKIMA, Wash. - We're on the scene of an officer involved shooting on the 1000 block of N 34th Avenue that left one man dead.

Yakima police say the man shot himself he and officers opened fire.

This case is tied to a bloody hotel room near Seattle that led police to the Yakima home.

No officers were injured. We're working to gather more information and will bring you updates as we get them.