Halloween sales expected to increase 10% this year
Posted:
Updated: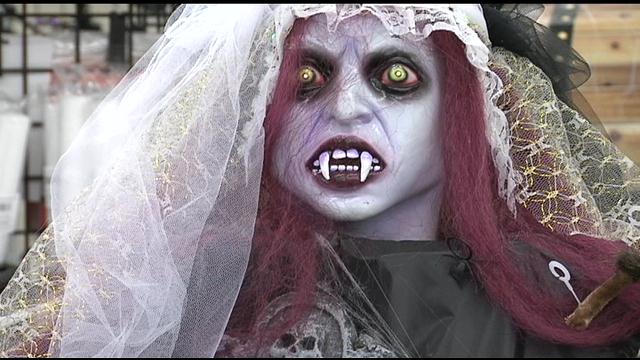 KENNEWICK, Wash. -- Halloween Costume stores are popping up all over theTri-Cities, and the National Retail Federation predicts it's because this year a record 170 million people plan to celebrate Halloween this year, according to NRF's 2012 Halloween consumer spending survey conducted by BIGinsight. Seven in 10 Americans (71.5%) will get into the haunting Halloween mood, up from 68.6 percent last year and the most in NRF's 10-year survey history. Consumers are expecting to spend more too; the average person will spend $79.82 on decorations, costumes and candy, up from $72.31 last year, with total Halloween spending expected to reach $8.0 billion.*
35.7% The percent of Americans who will look to a retail store for costume ideas. "Let's Party "operates a standard year round store in Kennewick off Edison Street. They employ about 12 employees, but this time of year, they have four stores going, two in Kennewick, one in Pasco and one in Moscow Idaho, with 60 seasonal employees.
"People aren't as worried about jobs because people actually have jobs this year. The average sale I know has gone up drastically. I'd say last year the average sale was around $60. This year, we're going up to about $85-$90as an average sale," said Deanna Madrigal who manages all the Let's Party stores.
She says the hardest part is finding a good location. "We find whatever location we can find that are empty. And we usually start looking end of May beginning of June for temporary stores that we can just pop them up and have them down by the middle of November," Madrigal said.
This year, they have a 90 day lease, instead of 60, because they are busy. But Madrigal says sales depend on timing. "So this year it falls on a Wednesday, and we're only doing 4 stores. But when it's a weekend Halloween, its always way busier, and so we go on to do more temporary stores that year."