10th Annual Youth and Justice forum at CBC
Posted:
Updated: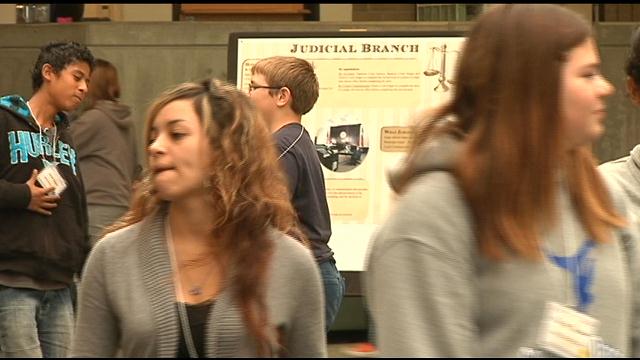 PASCO, Wash. -- 211 students from local area schools showed up to the 10th annual Tri-Cities Youth and Justice Forum at Columbia Basin College. Each year the forum draws together 8th through 12th grade students from the Tri-Cities and surrounding school districts and approximately 50 volunteer professionals from all components of the justice system. The professionals include judges, law enforcement officers, K-9 teams, attorneys, corrections officers, court interpreters, juvenile probation counselors, court clerks, educators, court reporters, forensic scientists, and others.
One of the principal missions of the forum, which was initiated in part under the auspices of the Washington State Minority and Justice Commission and for which the Commission continues as a co-sponsor, is to promote racial and ethnic diversity in the justice system workforce that reflects the changing diversity of the communities it serves, by encouraging students of color or from other communities historically underrepresented among justice system professionals, to pursue those professions.
One of the panelists this year, was a former Kiona Benton student who is now in her first year of law school at Gonzaga University. Chelsie Elliott says attending the forum in eight grade changed her life. "This was like my ah-ha moment so to speak. I came here I didn't know what I was going to do and this was it. This was my epiphany, this is what I want to do with my life," Elliott said.
@
The primary objectives of the forum, through the interactions between the students and professionals, are two-fold: to stimulate the students to think about and understand their legal rights and obligations as members of their community, and to encourage the students to learn about and consider opportunities for careers in the justice system.