Restoring charred land one tree at a time
Posted:
Updated: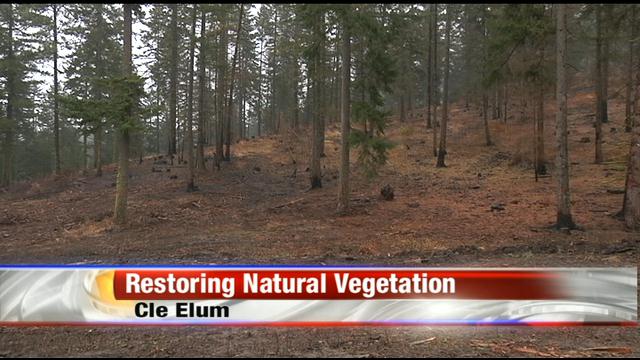 Cle Elum, WASH.--The rain didn't let up Saturday, but that didn't stop over 100 volunteers from replanting trees in the lands charred by the Taylor Bridge and Table Mountain Fires near Cle Elum.
The devastating wildfires that rocked Central Washington this year may be down to their last embers.
"This is the season ending event that they've been talking about, especially at the higher elevations where we've got snow," said Ken McNamee from the Department of Natural Resources.
However, the rehabilitation process has only just begun.
"We'll be working in the foot prints of the Taylor Bridge and Taylor Mountain fires for many years," said Ernest Farmer, a supervisor for the Washington Conservation Corps.

This project is called Operation Lorax, and it's managed by the American Red Cross, The Conservation District, The Conservation Corps, and members of the community. It has many different purposes, including the restoration of natural vegetation.
"If we don't replant the trees ourselves, we're talking upwards to five years of it taking for the regrowth to occur naturally," said Christina Escobar from the American Red Cross. "So we want to obviously expedite that process and get them in ourselves. It's our own community. and we hunt here. We hike here."
"I hope that it helps the animals and bugs and stuff," said one of the young volunteers.
But planting trees will not just help the scenery become less of an eye sore. It will also help prevent erosion and flooding, a serious concern for Kittitas County. During the past couple of years, the county has faced problems with flooding in the lowlands, and it's washed out several roads.
"We've got to do some type of management," said McNamee. "We can't just let things go because if we do, mother nature will take it. Her vacuum cleaner will clean things out, and it's not very selective about what it cleans out. It takes everything."
Operation Lorax is also designed to give kids a chance to be a part of the healing process.
"For those two months, they were kept in doors, they were kept inside from recesses and there wasn't a whole lot they could do as far as aiding and helping," said Escobar. "They were aware of the fires. They were aware of people losing homes, neighbors, family, friends."
Over 100 volunteers planted around 1,000 trees Saturday.
The event was entered into a competition for "National Make A Difference Day" where 10 projects will be recognized.