HURRICANE SANDY: Death Toll Rises, Bridges Start To Reopen
Posted:
Updated: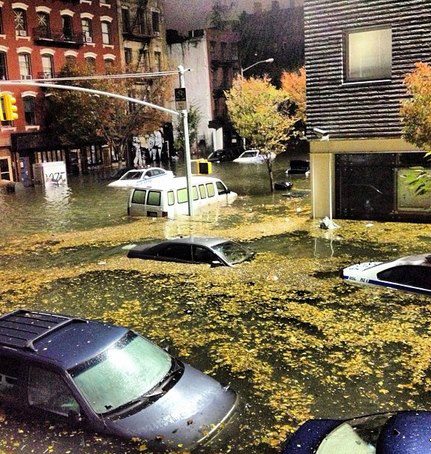 UPDATE: The death toll from superstorm Sandy continues to climb. Authorities say at least 34 people have died, many crushed by fallen trees. At least 8.2 million people across the eastern half of the U.S. are without power. Airlines have canceled more than 15,000 flights, stranding travelers around the world.
UPDATE: New York's bridges are starting to reopen, reconnecting a city that was otherwise nearly isolated. But there's no word on when the subways can start running again. Transit officials say several of the train tubes beneath the East River remain flooded. One subway station in lower Manhattan still has water up to the ceiling. Meanwhile, officials at Consolidated Edison say it could take a week before power is restored to all New Yorkers.
UPDATE: At least 24 people have been killed.
UPDATE: Superstorm Sandy is winding down and inching its way inland, leaving at least 17 people in seven states dead and more than 7 million power outages in its wake.

New York was one of the hardest hit areas when an unprecedented 13-foot surge of seawater - 3 feet above the previous record - caused the worst damage in the 108-year history of the city's subway system. It also forced 200 patients to be evacuated from one hospital.

Authorities are trying to rescue 800 people in a northern New Jersey town after a berm overflowed.

The National Hurricane Center in Miami says the massive storm is moving across Pennsylvania and is expected to take a sharp turn into western New York by tomorrow morning.
The Midwest also is bracing for Sandy. Chicago officials are warning residents to stay away from the Lake Michigan shore as the city prepares for winds of up to 60 miles an hour and waves exceeding 24 feet well into tomorrow.
UPDATE: The superstorm that's ravaging the East Coast is enormous, even when seen from space.

The commander of the International Space Station, Sunita Williams, said Tuesday that she and her crew were able to make out the big swirl at the center of Sandy as it neared land Monday. She says the cloud cover stretched from the Atlantic almost all the way to Chicago. Her family lives in New England, and she's keeping a special watch over what's happening on the Eastern Seaboard.

As for the other big news - the U.S. presidential election - Williams and the one other American on board, Kevin Ford, already have cast their votes. The two filed absentee ballots before rocketing into orbit from Kazakhstan. Ford arrived at the space station just last week.
UPDATE: President Barack Obama has declared a major disaster for New York City and Long Island.

Superstorm Sandy is marching slowly inland after leaving at least 17 dead in its march up the East Coast.

Millions of people are without power or mass transit and many areas are flooded.

At least 80 flooded houses destroyed by NYC fire
NEW YORK (AP) - A huge fire destroyed between 80 and 100 houses in a flooded neighborhood in the New York City borough of Queens.

More than 190 firefighters have contained the six-alarm blaze fire in the Breezy Point section, but they are still putting out some pockets of fire.

A fire department spokesman says one firefighter suffered a minor injury and was taken to a hospital. Two civilians suffered minor injuries and were treated at the scene.

Officials say the fire was reported around 11 p.m. Monday in an area flooded by the superstorm that began sweeping through the city earlier.

The neighborhood sits on the Rockaway peninsula jutting into the Atlantic Ocean.